Athletics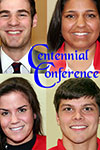 Ten honored for sportsmanship
Ten Muhlenberg athletes recently were recognized for their behavior on the field, court, course and track

They were named to the 2013 Spring All-Centennial Conference Sportsmanship team.

The CC Student-Athlete Advisory Committee (SAAC) established the All-Sportsmanship team in 2007. Each team elected a member from their squad who displayed good sportsmanship throughout the season to be selected to the All-Centennial Sportsmanship team.

The Mules who were honored were:

• Alex Bellini, women's lacrosse

• Gabriela Contino, women's tennis

• Laura Glogovsky, women's golf

• Christopher Lucarelli, men's golf

• Nicole Pisani, women's track and field

• Jack Reilly, men's lacrosse

• Brett Rosen, baseball

• Max Suitovsky, men's track and field

• Elizabeth Sullivan, softball

• Jason Teitelbaum, men's tennis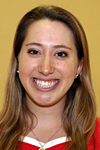 Two earn All-CC tennis honors
Junior Nina Sanders of the Muhlenberg women's tennis team earned two All-Centennial Conference nods

Muhlenberg women's tennis juniors Nina Sanders and Emily Szulman are partners on the court and partners on the All-Centennial Conference team.

Sanders was selected to the All-CC singles second team by the league's coaches, and as a doubles team Sanders and Szulman received honorable mention.

Sanders compiled a 5-5 record at No. 1 singles in the CC and was 6-8 overall against a challenging schedule that included nine regionally ranked teams. Six of her losses were to players ranked in the top 20 in either the Atlantic South or Northeast regions. Sanders made a huge improvement from her sophomore season, when she went 2-11 (2-7 in the CC) in her first year as the Mules' No. 1.

As the No. 1 doubles team, Sanders and Szulman were 6-8 overall and 5-5 in the CC, with five of their losses coming to ranked duos. The Muhlenberg tandem came close to a couple of upsets, losing 9-7 to the 11th-ranked doubles team in the Atlantic South and 9-8 (7-5) to the 13th-ranked team.

Szulman, who was a second-team All-CC singles pick last year, leads active Mule players with 52 career wins through three seasons. Sanders is second with 38.

Muhlenberg finished in a three-way tie for fifth place in the CC with a 5-5 record in 2013 and were 5-10 overall for the year.
Click here for the complete all-conference team.
MuhlBox: Special Swishes
Members of the Muhlenberg men's and women's basketball teams held a practice for Special Olympics athletes

Members of the Muhlenberg men's and women's basketball teams stepped onto the court last Wednesday as they have hundreds of times in their careers. This time, however, it wasn't with the goal of defeating an opponent – it was to run a practice for their favorite sport with Special Olympics athletes from the Lehigh Valley.

This is the second year in a row that the team has participated in the event, which is held at Trexler Middle School.

"The Student Athletic Advisory Committee (SAAC) wanted to do more stuff with the Special Olympics this year," said senior Kate Clawson, who is a committee member. "We helped them organize the Lehigh Valley Polar Bear Plunge and wanted to continue our involvement with the organization."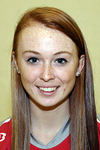 After paying tribute, women's lacrosse wins fourth straight
The Muhlenberg women's lacrosse team took a moment to honor the Seton Hill team before defeating Widener, 15-11

Before the start of today's game, members of the Muhlenberg and Widener women's lacrosse teams joined hands at the midfield circle and had a moment of silence for the Seton Hill women's lacrosse team, which lost its coach in a tragic bus accident en route to a game at Millersville last Saturday. Several players were also critically injured.

The Mules decorated their shoelaces and bench in crimson and red (Seton Hill's colors) and wrote all the Seton Hill players' numbers on a heart-shaped balloon.
But out of this tragedy an empowered community of lacrosse programs has arisen, going by the name "onelaxfamily."
"Girls' lacrosse is a very close-knit community as it is because there aren't too many of us. So when we heard about that accident, it hit very close to home," reflected senior Jill Freda. "We all care about Coach Stuckel a lot because she cares about us a lot, so to ever lose her the way Seton Hill lost their coach would just be miserable.
"We wanted to take a moment to honor her and to honor the players that were hurt because we realize that we could have easily been in that position with the terrible weather that day."
And while this "onelaxfamily" has united over the Seton Hill tragedy, it is also united by a love of the game and the competition it brings. So after the moment of silence, both teams hit the turf ready to compete, with the Mules coming out on top, 15-11
Muhlenberg (4-1) jumped to a quick 3-0 lead in the first four minutes of action, led by senior Ali Gabriele, who scored 59 seconds in. Widener (2-3) closed to within 5-4 later in the half before senior Molly Davin put two goals away in a minute-and-a-half to push the lead back to three. The second of her goals was a close-range shot off a perfect behind-the-cage pass by junior Michelle Certosimo.

Umbach scored three of the Mules' first five goals.
The Mules had one more goal in the half, scored by freshman Callie Brown, in between two Widener goals, to put the score at 8-6 at the break.
Muhlenberg opened the second half of play with six consecutive goals, three of them coming from freshman Casey Armstrong, who recorded her first career hat trick and doubled her season goal total in just 6:46. She also had two assists.
"We've been working on transition a lot in practice and I think our transition was golden today," stated Freda.
The Mules had a 15-7 lead with less than 15 minutes to play, but Widener scored four unanswered goals in the final 11:20 to keep things interesting.
"As defense, that run kind of got us going again and brought us back into the game a little bit because before it, the offense had the ball for a lot of the half," explained Freda. "We were calm though because we're a pretty solid defense whether we have subs or starters in. Those runs get your blood pumping and get you a little anxious, but we have Tiff[any Kreider] in goal, so we know we're good to go."
The senior goalie made eight saves, including four on high-percentage free-position shots by the Pride.
"This was one of Tiff's best games for sure," added Freda.
Sophomore Stephanie Umbach scored four goals and helped anchor the defense with four caused turnovers, and Certosimo added three. Senior Alexandra Franck led the team with six ground balls.
The Mules, winners of four in a row, open up Centennial Conference play against No. 8 Franklin & Marshall on Saturday.
"F&M is always a tough team but we're fired up and we're ready to go," said Freda. "Hopefully, we'll come out with a W on Saturday. We've got our heads up and we're ready to practice hard these next two days."
Click here for box score.
Click here for complete stats.
Upcoming Contests

Saturday, November 3
Football
vs. Ursinus, W 24-17 (ot)
box score | recap

Wrestling
King's Monarch Invitational, 12th
results | recap

---

Saturday, November 10
Cross Country
NCAA Mideast Regional (Dickinson)

Football
at Moravian, 12:00
live stats

Wrestling
Ursinus Fall Brawl, 10:00

Recent Contests

Saturday, October 20
Volleyball
vs. Gettysburg, L 0-3
box score | recap
vs. York (Pa.), W 3-2
box score | recap