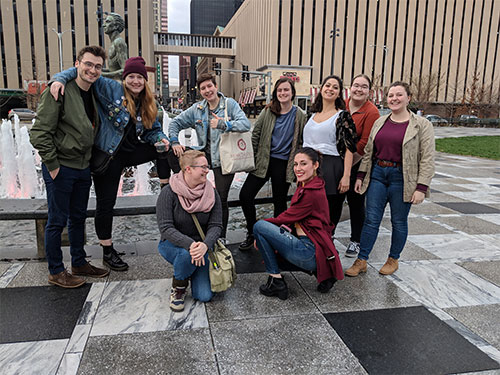 Sigma Tau Delta, International English Honor Society, was founded in 1924 at Dakota Wesleyan University, to confer distinction for high achievement in English language, literature, and writing; and to foster literacy and all aspects of the discipline of English. With over 800 chapters in large and small, public and private, colleges and universities in the U.S., Europe, the Middle East, and the Caribbean, Sigma Tau Delta is the most active honors organization in our field and one of the largest member organizations of the Association of College Honor Societies.
Muhlenberg College's Gamma Iota chapter began in 1963, when our first members were inducted, and these inductions continued until 1993 when our chapter temporarily disbanded. We renewed our chapter in 2013 after encouragement by alumnus and Sigma Delta member, Michael Pocalyko.
Students are invited to join Sigma Tau Delta, Gamma Iota chapter, based on grade point averages and class standing in the Fall semester. Every member has at least a 3.3 overall GPA and ranks in the top 30% of their graduating class. In addition, inductees must rank in the top 30% of all English and Creative Writing majors and minors. This usually means that you have a 3.75 or higher GPA in all of your English and creative writing classes.
In addition to the prestige of membership in an international honor society, there are many other benefits of affiliation: thousands of dollars in scholarship and writing contest award opportunities, regional and national conferences, and internship and publication possibilities. Andrew Leahy '21 won one of the summer scholarships; Kate O'Donoghue '17 and Taylor Garrison '20 had their poems published in Sigma Tau Delta's creative writing publication, The Rectangle. Another especially noteworthy benefit of membership is that students are invited to present academic essays and creative work at Sigma Tau Delta's annual spring conference, held each year in one of the Society's six regions of the country. Students selected to present their work in this national venue also have the opportunity to win convention writing awards and to attend presentations and workshops by nationally recognized authors such as Neil Gaiman, Ursula Le Guin, Allison Bechdel, or U.S. Poet Laureates Kay Ryan. Every year that Muhlenberg has attended the conference, our students have won writing awards.
| | |
| --- | --- |
| | |
Our local chapter of Sigma Tau Delta also created and continues to publish the annual interdisciplinary journal, the Muhlenberg Academic Review, noted as one of the best literary journals by Sigma Tau Delta in 2019-2020.
For information, please contact Professor Linda Miller.