Roughly one-third of neuroscience graduates have matriculated into medical school since the inception of the major, which is now among the fastest-growing programs at Muhlenberg.
The remaining two-thirds have pursued doctoral degrees in neuroscience, veterinary medicine, occupational therapy, physical therapy, dentistry, clinical psychology or optometry—or pursued careers far beyond the narrow confines of science and medicine to include law, dance, political science, teaching, film, public policy and community non-profit management.
Neuroscience students are prepared for the highest levels of graduate and postgraduate study. The program's alumni include four Fulbright scholars (Bangladesh, Colombia, Poland and Spain) with an additional two noted as finalists for the prestigious scholarship (Argentina, India).
Sabrina Barhoum '21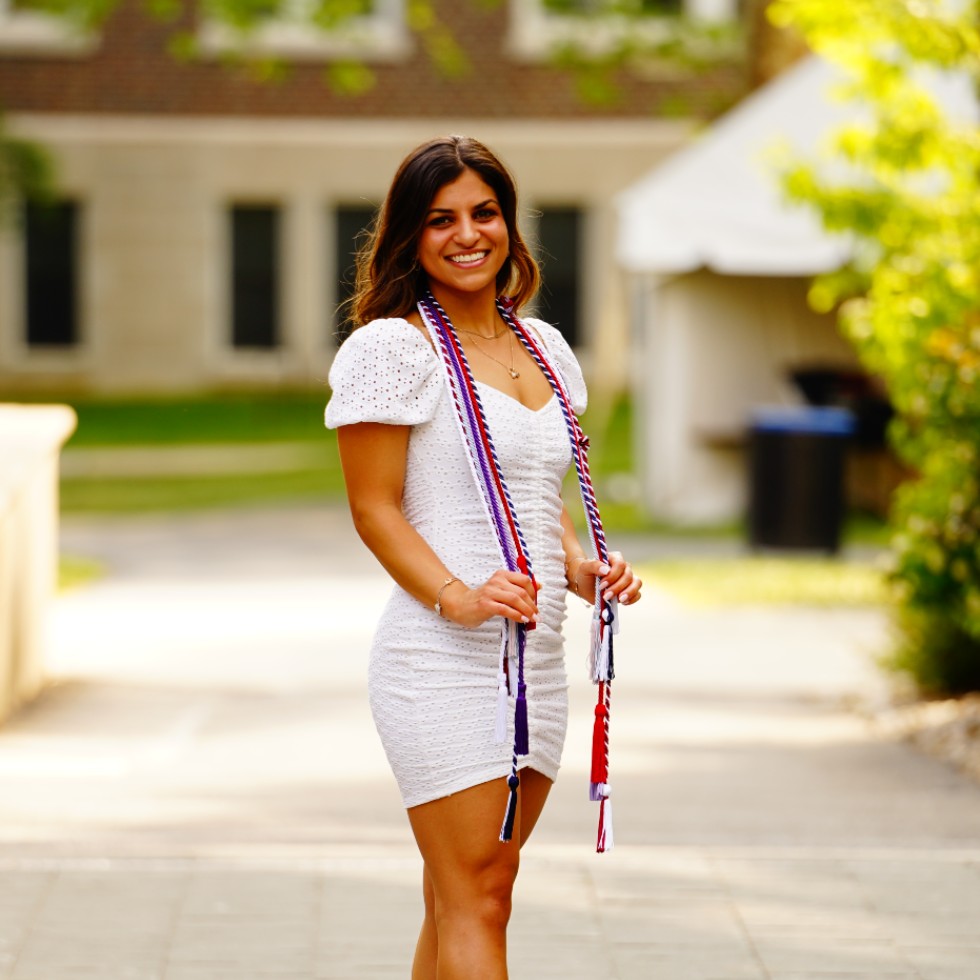 Sabrina graduated Muhlenberg with a major in neuroscience and a minor in philosophy. Sabrina has worked in neuroscience research since graduating and plans to pursue graduate school in neuropsychology.
What made you decide to major in neuroscience?
I started college with a strong interest in STEM and creative thinking, but undeclared as a major. After taking my first neuroscience course, I realized how much I loved the interdisciplinary aspect of the subject. It tied together biology, chemistry, psychology, and philosophy in such a unique way that allowed students and professors to think collectively about the physical and the abstract. My time in the neuroscience department taught me the importance of critical thinking and allowed me to feel comfortable and confident asking higher-level questions that most people don't tend to ask. I also appreciated the elasticity of the major, as it created an equal amount of room for people interested in systems or molecular neuroscience. It was such a thrill to ask questions from different disciplines and apply it to the larger understanding of the world's greatest phenomenon— – the human brain.
What was your favorite part of the program?
My favorite part of the neuroscience program at Muhlenberg would havehad to have been the faculty. They supported students to the fullest and always presented great opportunities for us to thrive. They encouraged us to ask challenging questions and accepted all schools of thought, so long as you had the strength to back up your claims. And although they each have their own interests in the subject, they found ways to tie difficult concepts together with other branches of neuroscience. This expanded our knowledge and allowed us to think of neuroscience holistically rather than branched. Shoutout to Dr. Gotthard, Dr. de Wit, and Dr. Teissere!!
What have you done following graduation?
Following graduation, I began a postbaccalaureate research fellowship at the National Institutes of Health in Bethesda, Maryland. I am a research assistant in an affective neuroscience lab, where I am learning a lot of research and clinical skills. I am currently preparing for graduate school applications and I intend to apply to PsyD and PhD programs in neuropsychology.
Adam Halpert '16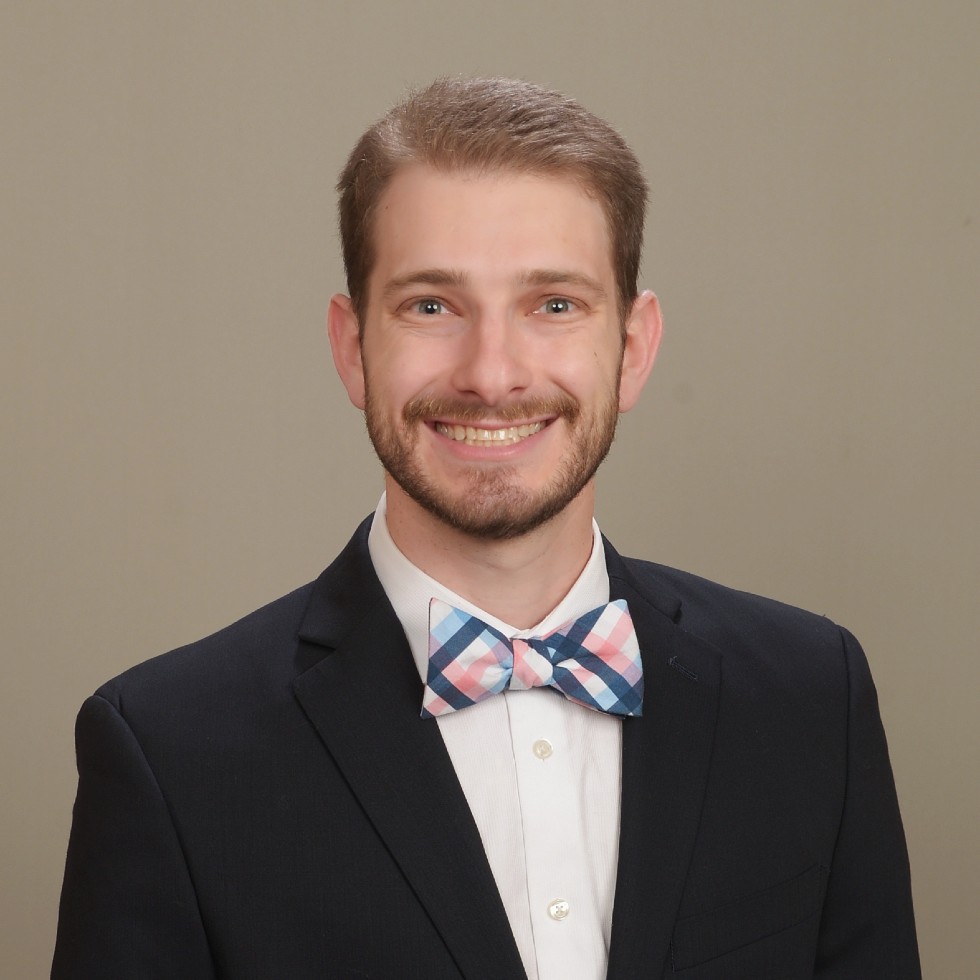 Adam graduated Muhlenberg as a neuroscience major on a pre-med track with a minor in music. He's gone on to pursue medical school and is currently a pediatric resident at Rutgers Robert Wood Johnson University Hospital in New Brunswick, N.J.
What made you decide to major in neuroscience?
I was always fascinated by the human brain and the complex nature of behavior and consciousness. I thought I would find my passions and people in the field of biology, but something was missing there. Then, I thought my passions would align with the psychology majors, but again, it did not feel quite right. When I met Dr. Teissere and the neuroscience majors, I knew I was home. These were the exact people that shared my weird and quirky interests. I loved the unending array of questions that neuroscience attempts to answer. I loved how nothing was straightforward and everything had multiple perspectives. I am forever grateful to be a Muhlenberg neuroscience nerd.
What was your favorite part of the program and why?
My favorite part of the neuroscience program was the relationship I developed with Dr. Teissere. Upon signing up to be a neuroscience major, I met with Dr. Teissere and was instantly mesmerized by his character and passions. I saw him as a role model and sought to learn everything and anything I could from him. This led to an amazing neuroscience journey. I took three classes with him (Mind & Brain, Neurons & Networks, and States of Consciousness), became his Learning Assistant for 2 years, studied in his molecular neuroscience lab, and developed a new lifelong mentor and friend. His mentorship has continued beyond my years at Muhlenberg and I am deeply proud to call him my friend. I was even fortunate enough to have Dr. Teissere sign the Ketubah (marriage contract) at my wedding. Dr. Teissere was my favorite part of the neuroscience program at Muhlenberg.
Tell me about your adventures following graduation.
After graduating, I moved to Jersey City, NJ, and spent two years working as a cardiology medical scribe in Hackensack, NJ, while teaching Judaic studies and general elementary studies. Then, I moved to Harlem, in New York City, to start my medical school journey at Touro College of Osteopathic Medicine. I have since graduated from medical school, moved to Metuchen, NJ, and am now a pediatric resident at Rutgers Robert Wood Johnson University Hospital in New Brunswick, NJ. During all that time, I married the love of my life, Emily, and welcomed our first child, Tal.
In what ways would you say the neuroscience program at Muhlenberg equipped you for your professional or graduate school career?
I always knew I wanted to be a pediatrician. I also knew that I wanted to be a pediatrician that treated each and every patient with empathy and thoughtfulness. The neuroscience program equipped me with the foundational thoughtfulness, inquisitiveness and empathy that were necessary to exceed in the pediatric medical community. I am a more well-rounded scientist and clinician because of the Muhlenberg neuroscience program. I am better able to observe and study the consciousness of children because of the teachings I was taught by the neuroscience faculty. I have a deep understanding of the complexity of human behavior, an essential skill for any pediatrician, because of the neuroscience program. I am humbled and eternally questioning because of the neuroscience program.
Prianka Hashim '19
Prianka Hashim '19 graduated from Muhlenberg with a dual degree in neuroscience and a self-designed major in gender and sexuality studies. Since graduation, Prianka has worked as a research technician and is currently a doctorate student at Northwestern University, where she's studying reproductive science.

What made you decide to major in neuroscience?
I loved how interdisciplinary the coursework and focus of the major was. Science does not exist in a vacuum and the neuroscience department faculty not only acknowledged it, but embraced it allowing students to take relevant classes in biology, philosophy, and others to strengthen our background and provide exposure to relevant fields.
What was your favorite part of the program? Why?
My favorite part of the program was being able to work closely with faculty and their continued support both during my time at Muhlenberg and after. I had the opportunity to work in the lab of Dr. Jeremy Teissere which really inspired my love for being at the bench!
What have you done following graduation?
Between 2019-2021 I worked as a Research Technician at the University of Michigan under the mentorship of Dr. Ariella Shikanov & Dr. Molly Moravek. There I worked on a transgender FTM model studying the impact of exogenous testosterone therapy on long-term reproductive outcomes. Currently I'm a PhD/MPH student at Northwestern University. I'm working in the laboratory of Dr. Francesca Duncan studying how certain immune pathways may contribute to ovarian inflammaging with a long-term goal of fertility preservation and longevity.
In what ways would you say the neuroscience program at Muhlenberg equipped you for our professional or graduate school career?
Muhlenberg's neuroscience program allowed me to explore a variety of disciplines and bring these frameworks back into my understanding of scientific approaches, making me a stronger scientist. Additionally, it instilled a sense of confidence in my ability to conduct research and build a foundation that allowed me to switch into the related discipline of reproductive science, ultimately what I decided to pursue my PhD in.