Christopher W. Herrick ‌
Professor of Political Science,
Director of the International Studies major, and Co-Director of the Political Economy and Public Policy major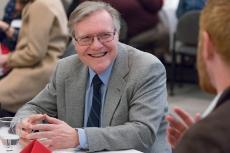 Contact Information:
chrisherrick@muhlenberg.edu
484-664-3146
Ettinger Hall 308F

Courses Fall 2019
PSC 232 Government & Politics of East Asia
PSC 329 International Law & Organization
IST 101 Introduction to International Studies
Other Courses Taught Over the Past Two Years:
PSC 103 Intro to Comparative Government & International Relations
PSC 237 Governments and Politics of Africa
PSC 280 Sustainable Development in the Pearl River Delta Region of China
PSC 331 Comparative International Environmental Policies
PSC 339 Theories of International Relations
PSC 341 American Foreign Policy
PSC 430 Comparative National Security Policies
Education:
Ph.D. International Studies, University of South Carolina
M.A. Political Science, University of New Hampshire
B.A. Government, Bates College
Background:
Dr. Herrick's areas of study include comparative politics, international relations, and environmental policy. Dr. Herrick's research focuses generally on foreign and national security policies. His current research focuses upon China's "Peaceful Rise" and examines the prospects that despite potential economic compatibilities perceptions and misperceptions will negatively affect China's relations with the United States, India, Japan, Southeast Asia and Africa. He has also published a book on Issues in U.S. Foreign Policy.
Together with Ms. Nancy Collings, the Mandarin Instructor at Muhlenberg, Dr. Herrick has designed and conducted a Muhlenberg Integrated Learning Abroad (MILA) course that addresses sustainable development in China and includes a two week travel experience in the Pearl River Delta region of China.
Dr. Herrick is also the faculty advisor for a number of prestigious post-graduate awards. These include the Boren, Fulbright, Gates Cambridge, Jackson-Davies, Marshall, and Rhodes Scholarships
Conference Papers:
Northeastern Political Science Association, November 2012, "Perceptions and Misperceptions: China's Relations With The States Of Southeast Asia In The Context Of Its "Peaceful Rise"
ASIANETWORK National Conference, April 2012, "The Role of Perceptions in China – India Relations in the Context of China's 'Peaceful Rise'"
Northeastern Political Science Association Annual Conference, November 2011, "The PRC's Relations with the Existing Great Powers in the Context of China's 'Peaceful Rise' as an Emerging Great Power"
ASIANETWORK National Conference, April 2011, "China's Africa Policy in the Context of China's 'Peaceful Rise' as an Emerging Great Power"
Northeastern Political Science Association Annual Conference, November 2010, "The PLA-Navy in the Context of China's 'Peaceful Rise' as an Emerging Great Power"
ASIANETWORK, National Conference, April 2010, "China's Initiative"
Northeastern Political Science Association Annual Conference, November 2009, "The Perils and Potential of China as an Emerging Great Power – A Theoretical Perspective"
NAFA Bi-Annual Conference, 2009, "University Structures for Fellowships Advising"
Book:
Issues in American Foreign Policy, Longman Publishers