Alumni Profiles


Adam Bucci*
Class of 2006
Major in Theatre

Actor in theatre, film, television
and commercials

Since graduating Muhlenberg in '06, I have continued my work in theatre but I am also pursuing a career in film and TV. I spent two years in and around NYC doing underground theatre, regional theatre (Grease), and, like all actors, did some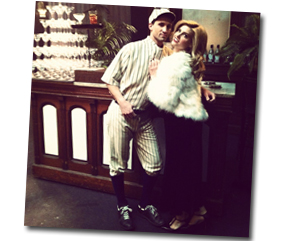 background work in film and TV to get a taste for being on set. I acted in several student films and an independent horror feature entitled Snapper.
I moved to Los Angeles in 2008 where I've worked on commercials (Wendy's, Bacardi, Lincoln Financial) and continued work on smaller independent film projects. Great theatre does exisit in LA, and I was lucky enough to work with Roger Bean (writer of the Off-Broadway sensation The Marvelous Wonderettes) in Life Could Be a Dream. I most recently was cast as Cliff in "Cabaret" in a theatre outside Los Angeles. When not auditioning for film, TV, and theatre I keep myself busy in acting class, workshops, vocal lessons, and dance class. LA doesn't have that hustle NYC does, so you have to keep yourself motivated at all times!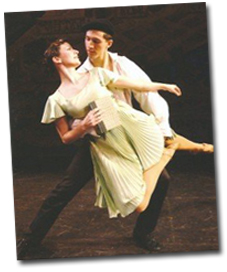 I was able to grow immensely as an artist while at Muhlenberg. I came to 'Berg knowing I had a passion for acting and performing, and I graduated with the knowledge and work ethic to make a career out of it. There's no question that this business I signed on for is hard. It's one of the toughest things I've ever done but I wouldn't have been prepared if not for the one-on-one time I had with Muhlenberg professors. I got the most out of my four years of college because I was among a small and close-knit community of actors and professors. I also wouldn't ever have become a dancer if someone hadn't dropped out of the On the Town dance chorus. And I would never have fallen in love with African Dance and worked alongside Charles O. Anderson if Karen Dearborn hadn't insisted that I enroll in some dance classes. I went on to perform and choreograph in three ACDFA competitions (making it to either the Nationals or Gala Performances each time). Muhlenberg gave me countless opportunities, and I discovered so many new things about myself as an artist and performer.
Update: Adam is performing in the ensemble and understudying the title role in the world premiere musical Justin Love at the Celebration Theatre, in Hollywood, Calif., opening Sept. 21, 2012.

*Professional name. Also known as Adam Joseph Reich.
---
Adam on set for a Bacardi advertisement photo shoot and in On the Town at Muhlenberg, directed by Charlie Richter and choreographed by Karen Dearborn, Fall 2003.
Photo by Joe Edelman.