Alumni Profiles


Kelly Howe
Class of 2003
Major in Theatre

Assistant Professor of Theatre, Director

After graduation, I worked in the Education Department at Actors Theatre of Louisville before earning my M.A./Ph.D. in performance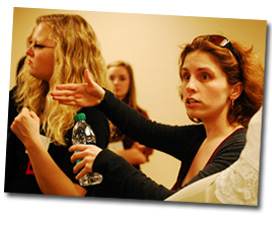 as public practice at the University of Texas at Austin. As an assistant professor at North Central College, near Chicago, I teach courses in theatre history, activist theatre, script analysis, acting, theatrical dialogue facilitation, and feminist and queer theory. As a scholar I specialize in activist performance, an emphasis reflected in my work as president of Pedagogy and Theatre of the Oppressed, Inc., an international organization of artists, activists, educators, scholars, and community organizers (www.ptoweb.org).




Muhlenberg's sophisticated studio training and rigorous liberal arts curriculum prepared me for a rich, fulfilling life in the arts. I discovered the teacher/artist/scholar/activist I wanted to become. Generous, brilliant mentors helped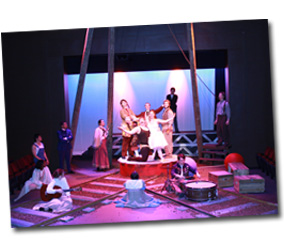 me build an academic/artistic profile that reflected my passions and appealed to graduate schools. Whether I'm directing a play, mentoring advisees, or facilitating class discussion, I consistently witness my own students benefitting from skills I gained at Muhlenberg. Wherever I go, I'm proud to claim Muhlenberg as my alma mater.