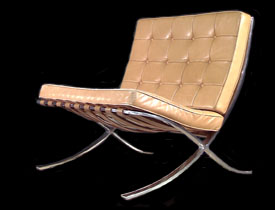 Ludwig Mies van der Rohe
(German, 1886-1969)
Barcelona Chair,1929
Chrome plated steel, leather

Best known as a leading architect associated with the Bauhaus in Germany and the International Style in America, Ludwig Mies van der Rohe also was responsible for the design of some of the most important buildings in the history of modern architecture. In addition to his innovative architectural plans, Mies van der Rohe contributed to the revolution in modern design. The Barcelona Chair, 1929 was designed as a prototype to be mass produced for the consumer public. The chair was introduced at the modern design and decorative arts exposition held in Barcelona, Spain.
The Barcelona Chair became popular as a result of the ingenuity and financial backing of Mies van der Rohe's student, Florence Knoll. Knoll reinterpreted the famous chair and founded a company, Knoll International, which manufactured the chair and other classic modern furniture designs and sold them to large corporations in the United States. This chair and its companion benches were selected to decorate such International Style landmarks as Mies van der Rohe's Lake Shore Drive Apartments in Chicago and Philip Johnson's Glass House in New Caanan, Connecticut.
All art images and content are the property of Martin Art Gallery, Muhlenberg College, Allentown, PA. Any reproduction or distribution of this material without the expressed, written consent of the Martin Art Gallery is prohibited and a violation of federal law. All rights reserved.