Rhonda Wall: "How do we survive? Everything happens at the same time"
Rhonda Wall, Boosted, 2021, paint and collage on panel
Rhonda Wall creates hybrids of factual and fictional subject matter in her work to transport the viewer to another place – an invented world where past, present, and future events merge into one, where everything happens at the same time. The paintings in How do we survive? were made immediately before, during, and after the Covid 19 pandemic (2019-2023) and reflect the public discourse surrounding a worldwide crisis.
Martin Art Gallery
Exhibition: August 28 - October 6, 2023
Artist talk and opening reception: September 7, 2023
Ashe Kaye: "Glut and Guzzle"
Ashe Kaye (they/them)
Not My Mothers Womb, 2020
Archival pigment print
40 x 60"
Glut and Guzzle
is a body of photographic work with custom frames and soft sculpture using 3D technology including large-scale CNC routers and inkjet printed fabrics to display and subvert religious teachings and societal norms. Specifically, the work is an exploration of how gender norms and the visual language of advertising infiltrates daily lives and the harmful effect of media and religion on shaping and reifying identity and gender roles. The work explores how mixed media and sculpture, in conversation with photography, can offer complications to the viewer's understanding of the work and engage their senses beyond a purely visual experience.

Artist statement: In this project I focus on my relationship with my partner, our sexualites and how to navigate these issues outside of the LDS faith of my childhood. The work engages with our struggles with gender, sexual expression, mental illness and notions of the female gaze. These explorations arrived at seductive and grotesque imagery of food and body. The lush, large-scale color photographs, tactile soft-sculpture, and variably textured frames apply the visual tools of advertising to seduce the viewer.
Baker Center for the Arts Galleria
Exhibition: August 21 - November 10, 2023
Artist talk and opening reception: September 20, 2023
Maria Belén Irusta: Onírica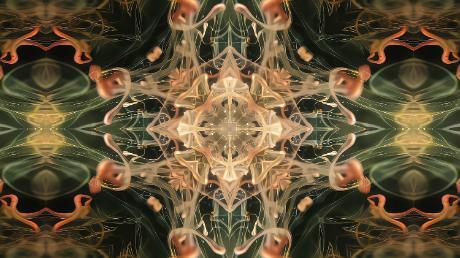 Maria Belén Irust, Element3001003
Irusta is an Argentine interdisciplinary artist based in Santa Cruz, CA. She studied at the University of Fine Arts in Rosario (Argentina) and works with a variety of media including traditional painting, traditional and digital illustration, traditional and digital collage, analog and digital photography and video. Onírica, an exhibition comprised of digital prints and motion art, is named for a Spanish adjective that means "of the dream or related to the images and events that are imagined while sleeping," an apt description of Irusta's celestial, hypnotic works.
Outer Wall Gallery
August 21 - December 15, 2023
Andrew Soria: "Welcome to the Neighborhood"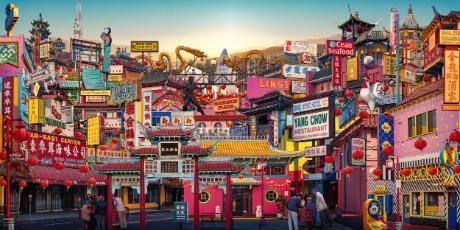 Andrew Soria
Chinatown - LA, 2020
Digital collage
Welcome to the Neighborhood is a love letter to a city and its culture, conveyed through a series of pop surrealism cityscapes. These artworks embrace the city's diversity, shining a light on underrepresented neighborhoods and paying tribute to the unique essence of the places we call home. This body of work invites viewers to appreciate the beauty found in some popular and lesser-known corners.
Martin Art Gallery
Exhibition: November 27, 2023 - January 5, 2024
Virtual artist talk and opening reception: November 29, 2023