First Weiss Fellow Reflects on His Inaugural Year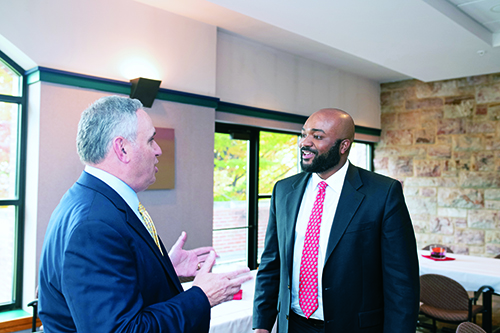 When A. Benjamin Miles III '13 attended his first Muhlenberg College Board of Trustees meeting last October, it wasn't a completely foreign environment. He'd been in touch with Chair Richard C. Crist Jr. '77 P'05 P'09 as well as two trustees just starting their terms over the summer, and he was familiar with much of the College's senior leadership via his previous work on the Alumni Board.
"It was possible to feel comfortable early on just because of the nature of the fellow trustees," Miles says. "I think I've been treated as a colleague on the board as opposed to an intern, so to speak. I hear the good things and the opportunities for improvement. There's no censorship."
This is what Miles wanted when he applied for the Weiss Fellowship, a selective trustee mentorship program designed to prepare recent Muhlenberg graduates for service and nonprofit leadership opportunities. It was a natural progression in his volunteer leadership, he says, an opportunity to see the inner workings of a group that helps steer the College. The three meetings Miles has attended so far have illuminated the complexity of the board and of the College's operations.
The most recent meeting, held virtually in April due to COVID-19, helped demonstrate the importance of trustees "who have a high level of leadership experience, especially with uncertainty," he says. "A lot of trustees are calm in the face of uncertainty because they've been there before. For example, 2008 was also uncertain. We're going to get through this."
The fellowship, named in honor of Muhlenberg Life Trustee Bishop Harold "Hal" Weiss '52, empowers the College's trustees to appoint up to two Muhlenberg alumni to concurrent two-year terms on the College's board. The second Weiss Fellow, Laura Winger '10, began her term on July 1. Applicants to the Weiss Fellowship program must be Muhlenberg graduates who received their degrees from the College within the last 10 years. To learn more, visit muhlenbergconnect.com/weissfellowship.
This story was originally featured in the Summer 2020 edition of the Muhlenberg Magazine and was written by Meghan Kita.