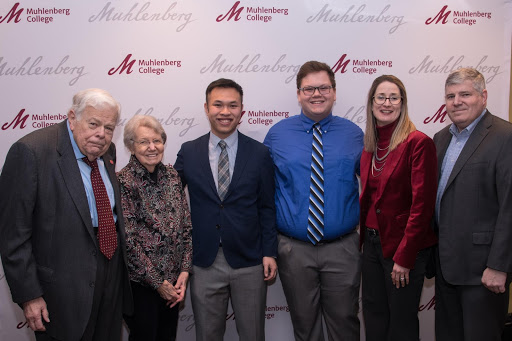 David E. Haight, Jr. P'92, Maureen Haight P'92, Dat Le '20, Jeffrey Varrone '22,
Susan L. Haight and David E. Haight III '92
On Saturday, February 1, 2020, more than 200 scholarship donors, recipients, guests, faculty and staff gathered during the Scholarship Luncheon to celebrate the impact that gifts of donor-funded scholarship have on students at Muhlenberg College. Donors and recipients met and engaged in meaningful conversations. One of the afternoon's highlights was when Dat Le '20, a recipient of The Haight Family Scholarship and The Nancy L. '84 and James R. Miltenberger Scholarship, took to the podium to share this powerful speech.
Good afternoon and thank you to everyone here today. I was originally born in Vietnam and my family moved to the U.S. when I was four and a half years old. We came to Denver, Colorado, with very little, but my parents knew two things for certain - that our lives would be completely changed, and that both my brother and I would have an opportunity to get an education.
You see, my parents grew up in a time of war, so the opportunity for an education was rare. My mom was only able to finish middle school while my dad never even finished elementary school. So, their lives revolved around making sure that both my brother and I were prepared and ready for all educational opportunities. They pushed us past our comfort levels and provided us with whatever they had while maintaining three jobs each. It is through their efforts and hard work that I am able to stand here today in this room. They have instilled in me confidence and a hard-working attitude that I would have never found on my own.
The second part of my life journey brought me here to this amazing school that I have called home for the past four years. Now, the most common question that I get asked is, "How did a kid from Denver find out about Muhlenberg?" My answer is always simple. Muhlenberg has a good reputation nationwide and some of it has to do with luck. I've always liked schools that were smaller that encouraged students in ways that Muhlenberg does, but it was my college counselor who pushed me to visit. It was the first school I visited and on the first day, I knew it would be the school for me.
Fast forward four years, I can now say that, without a doubt in my mind, Muhlenberg College has been the best decision I made thus far. Since my first move-in day to my last, I have gradually moved from one side of campus to the other and my interests have become more concentrated. Muhlenberg presented me with a plethora of opportunities, from clubs to religious experiences and trips to help others in need, and I've been lucky enough to take on some of those opportunities during spring breaks.
As a Residential Advisor for the past three years, I've had the pleasure of interacting with both new students and upperclassmen as they navigate college. I've seen the inner workings of Muhlenberg and the effort that it takes to not only keep the school running, but to also support the physical and emotional well-being of its students. The best part about being an RA is that I get to see first-year students embark on one of the greatest journeys of their lives while seeing other students finish their college career - all within one year. I get to see students cry of joy and sadness, but I am also witness to how Muhlenberg comes together to support those students.
The one fear I had going to a school so far away was how I would adapt and overcome obstacles without my family around. That fear, fortunately, did not last long as I found myself working in the financial aid office here at Muhlenberg. Over the past four years, I have gone to work almost every day and have been greeted by the people I consider my extended family. That office has been the family away from home that I didn't know I needed. They were there during bad times supporting me and cheering me through the good times as well. They were there when I was confused and lost about what I wanted to do with my future. But more importantly, they were there no matter what I needed, whether it was taking me in for dinner during breaks or driving me to the airport at two in the morning. They were just there willing to sacrifice their days and nights for me. To Greg, Laura, Tina, Kim, and everyone in financial aid, thank you for everything that you have done for me.
Now, to say that they were the only ones supporting me would be false. What I've come to realize over my time here is that this is the culture at Muhlenberg from everyone whether it be the student body or faculty or administrators. That spirit of support fostered by Muhlenberg can be felt throughout this room today. We are all here because we love this school. You have continued the school spirit of giving and support and gave an opportunity to a student here who might not have been able to attend this great institution were it not for your generosity.
I've been lucky enough to be the recipient of The Haight Family Scholarship and The Nancy L. '84 and James R. Miltenberger Scholarship, and would like to take this opportunity to personally thank the Haight and Miltenberger families for giving me the support that I needed. Without scholarships like these, Muhlenberg would only be a dream for students like myself. The reality is that each and everyone in this room exemplifies why I love this school so much; we give and support out of the love for education and opportunity. Because of people such as yourselves, I plan on continuing the legacy of giving and supporting the school we all love.
Again, thank you so much for listening to me today. I hope everyone has a wonderful day.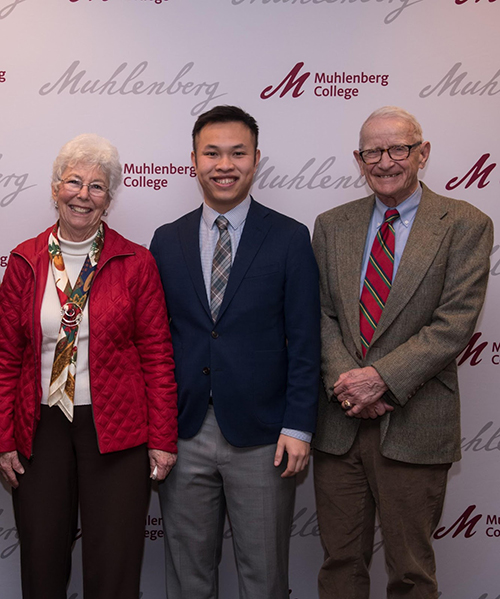 Nancy L. Miltenberger '84, Dat Le '20 and James R. Miltenberger