Multicultural Life
Meet the Multicultural Life Staff
The Multicultural Center at Muhlenberg College offers a warm welcome to the Class of 2025.
---
Community Engagement
Community Engagement at Muhlenberg College
Join Muhlenberg students and community partners as they articulate their own understandings of personal and institutional change through community engagement.
---
The Career Center
Meet the Career Center Staff
The Career Center at Muhlenberg College is here to help. Take time to get to know them - it's never to early to begin thinking about your future.
---
Athletics
Summer Advising: Athletics
At Muhlenberg, you'll find true student-athletes, individuals who have learned to excel in every aspect of their collegiate experience. 22 Sports - One Team. Go Mules.
---
Muhlenberg Dining
Dining on Campus
Learn what makes Muhlenberg's dining options some of the highest-rated in Pennsylvania with a tour of our programs and facilities:
Muhlenberg Dining - Programs and Facilities 2020 (PDF)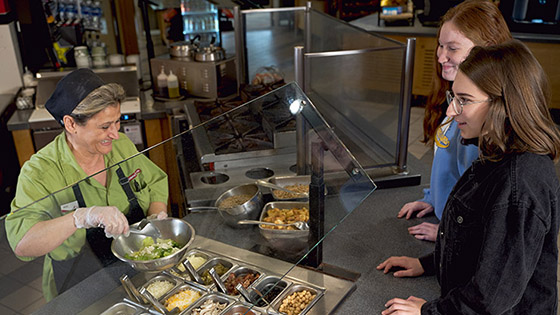 ---
Housing & Residence Life
Summer Advising: Housing & Residence Life
Life on Muhlenberg's beautiful campus is engaging and exciting. Meet our housing & residence life staff and hear from students what they love about a residential college experience.
---
Religious Life
Summer Advising: Religious Life
Muhlenberg community members find our campus a welcome place for any and all faith practices. Meet some of the active members of our College's religious communities.
---
Student Activities
Summer Advising: Student Activities
More than 110 clubs and activities mean that there's an interest or passion available to each Muhlenberg student.
---