Featured Story
Ariana Small '15 explores public health through service work in Peru.

Ariana Small spent part of her summer abroad through service work in South America.



Fri, 08 Aug 2014 15:19:00 EDT

Ariana is a psychology major with minors in public health and Spanish and a member of the RJ Fellows honors program. This summer she combined her many academic interests by participating in service work abroad.

Ariana volunteered with the Foundation for International Medical Relief of Children (FIMRC) this summer in Huancayo, Peru, a region in the country's central highlands. The non-profit organization's mission is to provide access to medical care for underprivileged and medically underserved families around the world. Ariana's work in Huancayo included hospital activities and health education projects that directly related to topics learned in her public health classes. She shadowed medical workers conducting rounds, observed surgeries and participated in health education initiatives to residents.‌

A particularly memorable experience involved providing fluoride treatment to elementary school children, most of whom had cavities and many of whom had damaged or missing teeth due to poor dental health. Ariana and her fellow volunteers not only taught the students proper dental hygiene mentods, but they also distributed toothbrushes and toothpaste to the children.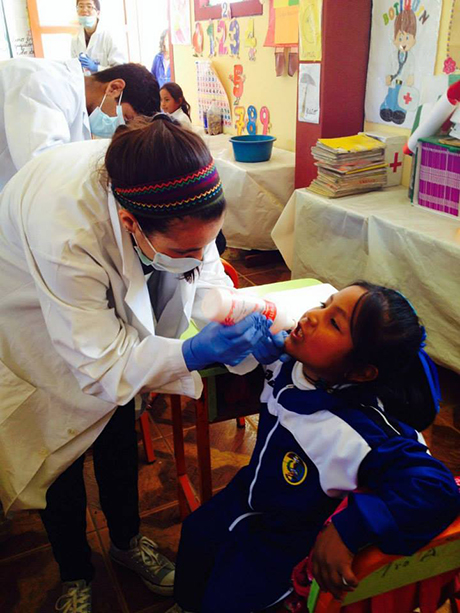 Ariana spent the semesters preceding the trip in preparation. FIMRC requires volunteers to support their trip financially, so Ariana became a familiar site on Muhlenberg campus, raising funds through t-shirt and bake sales.
Her international experience has enabled her to experience a different culture and to see sights very different from those of her hometown in Hoboken, NJ, including a 7-1/2 mile hike on the 14,000 ft. Nevado Huaytapallana mountain.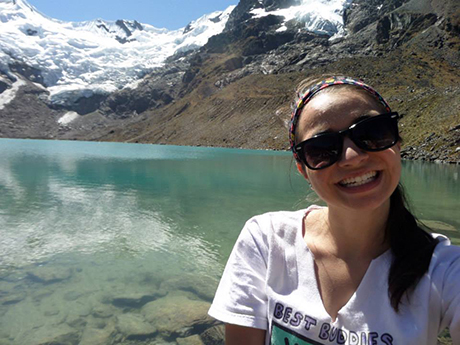 The experience was a life-changing one for Ariana, and she hopes to return to conduct further service work in December 2014. She'll be working with Muhlenberg's new FIMRC chapter to improve public health, both here in Allentown and abroad. In addition to dental health, the group will focus on focus on health education, physical and occupational therapy, psychology and education.
"Each semester, the chapter will fundraise to support health initiatives in Peru, raise awareness about these issues on campus, volunteer locally to match initiatives abroad, and have the opportunity to spend a week in Peru," Ariana says. "This upcoming semester, the chapter plans to create and present dental health education sessions in Allentown schools, while fundraising and collecting dental health donations to bring to Peru on our service trip."
Photos provided by Ariana Small '15.