Latest News
Life Through a Lens: Documentary Photography
Students Gain Life Experience in Documentary Photography Class' Examination of Pennsylvania's Slate Belt


Victoria Marsala '17


Fri, 23 Dec 2016 10:56:00 EST

Photography by Maggie Zerbe, Sara Allison and Amanda Quinn.

Capturing the perfect moment on camera isn't always easy. It takes practice, but fortunately, students Maggie Zerbe '17, Sara Allison '17, Amanda Quinn '17 and their classmates got plenty of hands on experience in their Documentary Photography class last spring.

Under the direction of Dr. Lora Taub-Pervizpour, associate dean for digital learning and professor of media & communications, and Joseph Elliott, professor of art, six students learned the ins and outs of documentary photography. In this co-taught seminar, Elliott and Taub-Pervizpour brought different expertise and perspectives to the work. Elliott mentored students on the history of documentary photography, the basics of photography and image processing while Taub-Pervizpour's focus was on the ethics of doing documentary field work and research and sharing documentary work in digital spaces.

During this semester, students had the opportunity to do field work in the Slate Belt of Pennsylvania. "I wasn't too familiar with the Slate Belt," says Quinn, "but I was aware sort of that there was industry in the area. Where I'm from, there's a lot of coal and iron, so I am hyper-aware of how older industries affect communities. I thought that the exploration of the Slate Belt would be really interesting in that regard."

Zerbe and Allison similarly expressed that they didn't have a lot of prior knowledge about Pennsylvania's slate industry before taking this class, however the experiences they had while learning about it were very rewarding.

The slate industry in the U.S., which was once a booming economic prospect in the mid-nineteenth century, has become nearly obsolete due to changes in construction technologies. Professor Elliott used his contacts from his work as a documentarian of historic industry to introduce students to a vanishing culture that was right around the corner. Students visited the small slate towns of Roseto, Slatedale and Pen Argyl to uncover more about the towns' deeply rooted histories in our country's industrial past, and to discover what post-industrial life is like there today.

When the students first found out what they would be documenting throughout the semester, Allison joked that she initially thought, "Wow, I'm just going to be taking pictures of rocks for the next four months—what did I get myself into," but she quickly discovered that "[the experience] ended up being so much more," and she wasn't the only one.

Zerbe and Allison focused their project on Roseto, a town with a population of less than 2,000 people, which was largely settled by German, Dutch and Italian Americans. There they spoke with members of the community, approaching their work with an interest in what documentary scholar Robert Coles calls "human particularity."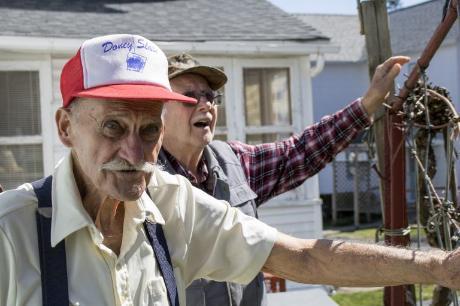 Two of the men they met, Andy and Larry (pictured above in a student photo), reminisced with them about their days as slate workers. They also interviewed a few of the women who worked at Hope Uniform and Security Products, a factory that produces and distributes uniforms for police and correction officers, fire and rescue and honor guard members around the U.S. All of the rich, nostalgic testimonies Zerbe and Allison recorded and transformed into a short video transport viewers to a different time—a time where Roseto was bustling with business. Both Zerbe and Allison agree that the experiences they had with this work had a strong impact on them.
"I think Andy, Larry and the women from the garment factory all gave me life lessons, even without knowing it," revealed Allison. She also showed appreciation for being able to get a new perspective of the world around her. "One of my classes takes me out to, you know, the Slate Belt of Pennsylvania, and I'm like what am I doing here? And then it just leads me on this whole adventure." Allison found that this class made her realize no matter what she ends up doing or who she's working with, she wants to be involved with people.
Meanwhile, Zerbe commented on how she enjoyed the fact that her class work pushed her to new limits, beyond the type of video with which she is familiar. "That was the first film I did that wasn't sports related," she recalled. "I'm an athlete, and that's obviously an area that interests me, so it was really cool to do something that was out of my comfort zone."
Zerbe also discussed how she is active in documentary work, and that she is currently working on a film for her video journalism class that is outside the realm of sports. "It can be difficult," she said, "so it's good to have that experience."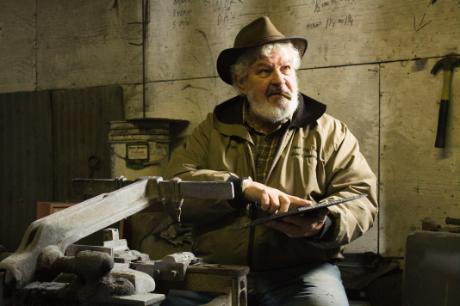 Quinn's project took a different angle, honing in more on the nature of the slate work itself. She filmed the workers (pictured above in a student photo) and their process of handling slate at the family-owned Penn Big Bed quarry. Penn Big Bed Co. is located in Slatedale, and happens to be one of the only slate quarries in the state that is still in use.
Quinn spoke highly of her time in the course as well, asserting that it really helped to solidify what she wants to do with her studio art and media & communication degrees. She explained how she decided to take the class at a time where she had just switched over from being a pre-med student.
"It was amazing not only that I had that opportunity, but that it happened when I was so unsure of what I wanted to do," said Quinn. The course showed her how to fuse her two majors together, and even inspired her to continue using what she learned outside of class. This past summer, Quinn spent four months traveling across the country in an RV and documenting her trip, both on her Instagram and on a blog she created. "It made sense for me to utilize what I had just learned, and to go out in the world and do it."
For more examples of student work from the Documentary Photography class, visit the Slate Stories website.
For the last three years, Taub-Pervizpour and colleagues in media & communication have been collaborating with Lehigh and Lafayette to create a multicampus documentary storymaking minor for students at these LVAIC schools. The minor launched this fall, with 25 students from across the three campuses enrolling in DOC 150: Intro to Documentary Storymaking, taught by Andy Smith at Lafayette College.
"The Documentary Storymaking minor grows out of the same interest in community-based documentary practice that you see in the course I taught with Joe Elliott, Documentary Photography," says Taub-Pervizpour. The three schools "share an aim to build bridges – not only across our campuses – but among our campuses and communities through documentary stories and practices." The famous documentary photographer Dorothea Lange was once quoted in saying that "The camera is an instrument that teaches people to see without the camera." This is exactly the sentiment behind this notion of having students observe life through a lens.
Allison, who helped create an informational video about the minor, explains that, "Helping make the doc storymaking minor video this summer made me realize I like seeing people's stories and figuring out where to go with them, and finding my own story maybe too, in the midst of things."