News Stories 2014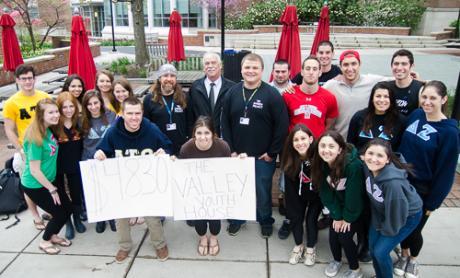 "Chips for Charity" benefits abused & homeless youth

Delta Zeta and Alpha Tau Omega raise nearly $5000 to assist local non-profit.



Thu, 08 May 2014 15:37:00 EDT

(pictured: Delta Zeta and Alpha Tau Omega members with Valley Youth House staff Shane Burroughs, street outreach coordinator, Jeffrey C. McCausland, development officer and Sean Searfass, extern counselor)

On a Friday night in March, members of Delta Zeta and Alpha Tau Omega came together to host a special event. The casino-themed "Chips for Charity" didn't include gambling or games of chance, but was instead filled with music and collection of monetary donations, toiletries, clothing and books designed to benefit Valley Youth House.

Valley Youth House is an organization dedicated to providing prevention and intervention services, counseling, life skills and behavioral health services to abused, neglected and homeless youth and their families. "Chips for Charity" was designed to specifically benefit the organization's street outreach program, The Synergy Project.

The idea came this past winter when the groups convened to discuss possible philanthropic causes. The bitter cold weather encouraged the students to reflect on the difficulties the temperature posed to those without proper clothing and shelter. And when the Greek members realized that many on campus may be unfamiliar with Valley Youth House's mission, many agreed the cause was a perfect choice.

Danielle Levin '16 and Dylan Shepcaro '15, philanthropy chairs from Delta Zeta and Alpha Tau Omega, helped rally their respective organizations, the campus community and family and friends to ensure the event's success, resulting in nearly $5000 in monetary donations and a large supply of in-kind contributions to help keep Lehigh Valley youth safer.

"We knew that our efforts would made a huge impact," says Levin. "We are so thrilled to have had the opportunity to work with the Valley Youth House, and we feel privileged to have partnered with such a worthy cause."

On May 8, members of both Greek organizations presented a check from the event proceeds as well as in-kind donations. The funds and supplies will be used to help youth and teens in at-risk situations.