News Stories 2014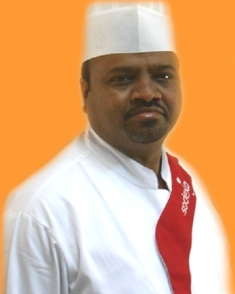 Global Chef Navin Khadilkar to Bring Authentic Indian Flavors to Muhlenberg College

Students at Muhlenberg College will get the opportunity to taste authentic Indian cuisine when Global Chef Navin Khadilkar visits the College from February 13 – 14.



Thu, 06 Feb 2014 10:20:00 EST

Travelling from Mumbai City, Maharashtra, India, Chef Khadilkar is a member of the Sodexo Global Chef program and will be visiting the Lehigh Valley during his tour of the mid-Atlantic region.

Khadilkar will work directly with Muhlenberg's culinary team to prepare genuine Indian breakfast, lunch and dinner menus in the Wood Dining Commons. Students can look forward to traditional menu items including Chicken Tikka Masala, Tava fried fish and a variety of curries.

"Muhlenberg tries to create a home for students," said Robin Riley-Casey, Muhlenberg's Director of Multicultural Life. "Home is often associated with family, friends and familiar home-cooked meals. The arrival of Chef Khadilkar will bring home to our students who are studying abroad at Muhlenberg. The Chef will prepare delectable dishes that, for Americans, may be considered specialty foods. However, for our international students these specialty dishes are often their meal mainstays. So while we all will enjoy great good from around the world, prepared by Khadikar, our international students will savor a taste of home."

During his more than 23 years of culinary experience, Khadilkar catered to 250 Indian delegates at the 2010 Tour de France and was honored to be the Chef-in-Charge for the 50th birthday party for Mr. Mukesh Ambani, Chairman of Reliance Industries Limited, India's second most valuable company.

"I work as an Indian Cuisine Chef, and I like to share my knowledge and skills with others," said Khadilkar. "It is my passion towards the culinary trade by training and grooming budding chefs to achieve excellence in their chosen professions. I am excited to do the same with the team in the U.S."

The Wood Dining Commons is located in the Seegers Union Building on Muhlenberg's campus. It is open to the public and offers an all-you-care-to-eat dining experience with eight individual platforms including fully integrated kosher meat and dairy kitchens. Breakfast, lunch and dinner are served Monday – Friday along with brunch and dinner on the weekends.

For more information, visit www.muhlenberg.edu/dining.