News Stories 2014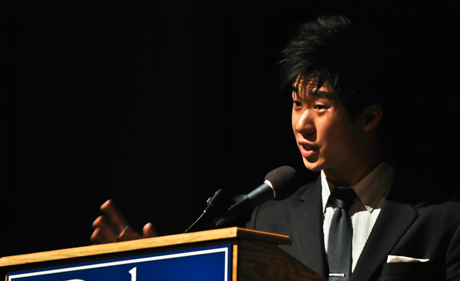 Independent Filmmaker and Former MTV Panelist to Speak at 'Berg

Calvin Sun, an independent filmmaker and former MTV U panelist, presents "Asian-Americans and Sex."



Tue, 18 Mar 2014 14:22:00 EDT

Sun's talk will be held on Thursday, March 20 at 7:00 p.m. in Miller Forum, Moyer Hall. This event, organized by the Asian Students Association and co-sponsored by the Center for Ethics, the office of multicultural life, the office of the dean of students, and the department of sociology and anthropology, is free and open to the public.

Sun was a panelist on MTV U's hit show "The Freshmen" for four years, and is an award-winning independent filmmaker whose works deal with Asian American stereotypes, identity and female body image. He has been published in various articles and books, including The American Beauty Industry Encyclopedia. He is the founder of The Monsoon Diaries, a popular wanderlust blog that focuses on how to travel the world without time or money.

He was born and raised in New York City, graduating from Columbia University in 2008 with a B.A. in biochemistry. He was vice president of his class, founder of the Columbia University National Undergraduate Film Festival (CUNUFF), and served as the President of the Columbia University Asian American Alliance (AAA). During his presidency, AAA's accomplishments were profiled on CNN and Sparknotes, and his organization was selected that year by AngryAsianMan and APAs for Progress as one of the "Top 10 Collegiate Organizations for AAPI Students" in the country. Sun and his work have also been featured in Hyphen and Asiance Magazine.

Sun currently attends medical school and is the president of his class. He also manages businesses in healthcare and real estate, and is serving as the current President of the Columbia College Young Alumni (CCYA). In his spare time, Sun cultivates a passion in hip hop choreography and South Asian dance while paying for medical school by working odd jobs as a bartending instructor, research assistant, events promoter and DJ. Since he was 20 years old Sun has spoken at over 50 high schools, universities, and conferences around the country, and continues to be one of the youngest public speakers in the Asian American speaking circuit.