News Stories 2014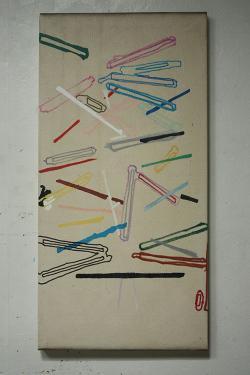 James F. L. Carroll: New Paintings 2013 - 2014

The Martin Art Gallery is pleased to feature James F. L. Carroll: New Paintings 2013 - 2014 as the first exhibition of our Spring semester, January 21 – February 21, 2015.



Wed, 17 Dec 2014 10:25:00 EST

Carroll, a well-known and prodigious artist, is also an energetic and iconic force who has been promoting the visual arts in the Lehigh Valley and beyond for decades. His adventurous mark making on canvas or hand-made paper is the result of his insatiable curiosity to explore new possibilities. He explains, "As I continue to draw and paint, I need to pursue the present so I can gain insight into the past. It is an on-going search of understanding, a restless pursuit of risk taking; it's the curiosity of ideas that matter more to me than the answers or the design. Since I am working only from questions, the process is not conventional, likeable, or pleasing but provoked by being uncomfortable."

James F. L. Carroll artist, founder and director of the New Arts Program in Kutztown has been awarded a third Pollock-Krasner Foundation Grant for 2015 -2016. PKF was established in 1985 through the generosity of the late Lee Krasner, a well- regarded abstract artist in her own right, and widow of the legendary abstractionist Jackson Pollock. The grant provides financial assistance to individual visual artists of established ability. Carroll's funding will support his expenses to make narrative works on linen and cotton canvas, handmade paper spheres and wall installations.

The production of the work in this exhibition, a Wall Page comprised of 140 12" x 9" canvases as well as an additional 32 paintings, has been funded in part by grants from the Pollock-Krasner Foundation and the Pennsylvania Council on the Arts through the Lehigh Valley Arts Council.

James Carrol: New Paintings opens Wednesday, January 21 at noon followed by a reception to meet the artist, 4:30 – 6 PM. The exhibition and reception are free and open to the public. Gallery hours: Tuesdays - Saturdays, noon – 8:00 PM, and by appointment.