News Stories 2014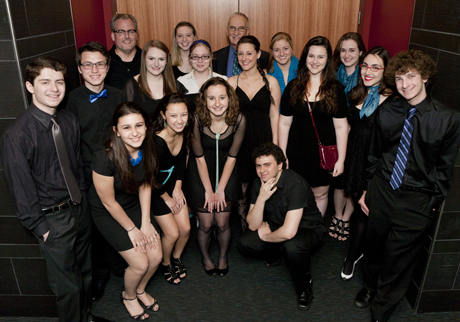 Muhlenberg Chamber Singers to Perform in Harlem

"Harmony in Harlem" features guest appearances by the Muhlenberg Gospel Choir and the Michael Sarian '08 Quintet.



Tue, 01 Apr 2014 14:58:00 EDT

The Muhlenberg Chamber Singers will travel to Harlem on Sunday, April 6, 2014, to perform a close harmony jazz repertoire at the United Community Methodist Church on 126th and Madison at 4:00 p.m., with a rehearsal from 2:00 p.m.- 3:15 p.m. The performance is free, although there is a $20 suggested donation.

The Chamber Singers will perform songs from the Great American Songbook, specifically the collaborations between African-American and Jewish musicians in Harlem during the 1930s.

The ensemble features 36 vocalists, accompanied by five musicians (trumpet, acoustic bass, piano, guitar and drums) and conducted by Michael Schnack, director of choral activities and voice area coordinator at Muhlenberg College.

Special guests include the Muhlenberg Gospel Choir and the Michael Sarian Quintet, with music composed by Michael Sarian, an '08 Muhlenberg grad now studying jazz trumpet at NYU. The event is sponsored by the National Jazz Museum in Harlem.

Originally founded as a chapel choir, the Chamber Singers have morphed within the past years into a close harmony jazz ensemble. The Chamber Singers are conducted by Michael Schnack, an Iowa native who "commutes" between Allentown and Vienna, Austria, where he has spent over two decades as a free-lance conductor, musical director, composer and collaborative pianist in the fields of musical theatre, operetta, opera, choral and vocal music.