News Stories 2014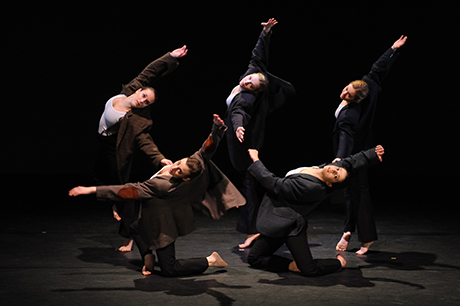 Muhlenberg College dancers to perform at national festival

Guest choreographer Charlotte Boye-Christensen's 'Key,' featuring five Muhlenberg College dance students, selected for National College Dance Festival, this June at The Kennedy Center for the Performing Arts



Mon, 24 Mar 2014 14:24:00 EDT

"Key," a dance work performed by Muhlenberg College dance students and choreographed by longtime Muhlenberg guest choreographer Charlotte Boye-Christensen, has been selected for inclusion at the National College Dance Festival, at the Kennedy Center for the Performing Arts, in Washington, D.C.

The work was selected by the American College Dance Festival Association (ACDFA), which presents the National Festival. The five-member cast will perform in the festival June 5-7.

"Key" is one of just 31 dance works to be selected for the festival, from among 506 submissions nationwide. It was one of only three selected from the 45 works performed at the Mid-Atlantic Regional Conference, March 17-20.

ACDFA holds 12 annual regional conferences around the country, and holds the National College Dance Festival every other year. Muhlenberg's dance program has been included in five of the seven national festivals in the past 14 years.

"The conference gives us national exposure, and enhances the reputation of the program," says Karen Dearborn, professor and chair of the dance program for Muhlenberg's Theatre and Dance Department. "Especially because we're a small liberal arts school, people tend to be absolutely shocked at how accomplished our dancers are. We're competing against BFA and master's degree programs and conservatories."

A native of Copenhagen, Denmark, Boye-Christensen is best known as the former artistic director of the renowned Ryrie-Woodbury Dance Company, a position she held from 2008 until April 2013, when she stepped away from the role in order to form NOW-ID, an interdisciplinary contemporary dance company. Boye-Christensen has been commissioned to create new dance works by prestigious dance companies around the world.

"'Key' was inspired by the life and music of Canadian pianist Glenn Gould, an artist who epitomizes strength, originality and vulnerability," Boye-Christensen says. "To strive for such excellence and profound artistry in one's work, as he did, is deeply inspiring."

"Key" features dancers Allison Berger '14, Katharine Dougherty '14, Gwynne Jones '15, Krysta Parker '16 and Annabel Williams '14. It was initially performed as part of Muhlenberg's "Master Choreographers" concert in February 2014.

"It was an absolute joy for me to re-create 'Key' on the dancers at Muhlenberg," Boye-Christensen says. "They came to the work with a tremendous amount of physicality, attention to detail and, perhaps most importantly, musicality. Congratulations to them, Karen and the rest of the dance faculty."

The five dancers in the piece hail from five different states: Nevada, Tennessee, Vermont, New Jersey and Pennsylvania. All five are dance majors, and three are double-majors, in biology, anthropology, and English.

Muhlenberg College is a liberal arts college of about 2,200 students in Allentown, Pa. The College offers Bachelor of Arts degrees in theater and dance. Princeton ranks Muhlenberg's theater program first in the nation, and the Fiske Guide to Colleges lists both the theater and dance programs among the top small college programs in the United States. Muhlenberg is one of only eight colleges to be listed in Fiske for both theater and dance.

Photos available. To arrange an interview or photo opportunity with Charlotte Boye-Christensen, Karen Dearborn, or any of the students who dance in "Key," please contact Scott Snyder, at 484-664-3693 or scottsnyder@muhlenberg.edu.

More information about the American College Dance Festival Association at www.acdfa.org

Charlotte Boye-Christensen, a native of Copenhagen, Denmark, received her formal training at London Contemporary Dance School and at the Laban Centre in London (where she won the annual choreography award) and completed her MFA degree at Tisch School of the Arts, New York University. Charlotte has been commissioned to create new works for Ballet West, The Milwaukee Ballet, Singapore Dance Theatre, The Arts Fissions Dance Company, Ballet de Camaguey in Cuba, New Danish Dance Theatre, Tisch School of the Arts in NYC, London Contemporary Dance School, Compañía Danza Contemporánea CCU, and Verb Ballets. She has choreographed at the University of Texas-Austin, TCU, Princeton, Rutgers, Utah, Southern Mississippi, at The National School for Contemporary Dance in Denmark, The Kuopio and Oulu Conservatories in Finland, Arnheim Academy and EDDC in the Netherlands, The Royal Danish Ballet School, Utah Symphony, University of the Americas in Mexico, and the Bellas Artes International Choreography Competition in Mexico City.

Ms. Boye-Christensen has been invited to participate in The Yard Dance Colony in Massachusetts, and The International Course for Professional Choreographers and Composers in England, and to teach and choreograph at the International Dance Competition in Seoul and at the famed Bauhaus Institute in Germany. She is the recipient of a Fulbright Scholarship and grants from the Theatre and Arts Councils in Denmark, Germany, Mexico, and Singapore amongst others, as well as a recipient of the Choo-San Goh Award for Choreographic Excellence. In 2002 she joined Ririe-Woodbury Dance Company, located in Salt Lake City, Utah, to assist in the artistic direction of the company. She became the Artistic Director in 2008 and has created and re-staged 26 pieces for the company. In April 2013, she stepped away from that position in order to form NOW-ID, an interdisciplinary contemporary dance company, and to pursue more international commissions.