News Stories 2014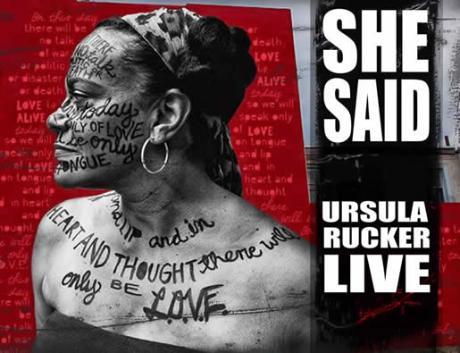 Poet and Hip-Hop Recording Artist Ursula Rucker Returns to Campus as Part of Center for Ethics Programming

"She Said" is a new-jazz tour-of-duty onto the battlefields of social justice, race and gender.



Wed, 08 Oct 2014 15:11:00 EDT

Poet. Performer. Hip-hop recording artist. Shamaness. The outspoken Ursula Rucker brings her civil but disobedient "she-lectricity" back to Muhlenberg for a night of original genre-defying performance on Saturday, October 11 at 8:00 p.m. in the Baker Theatre, Trexler Pavilion. Part hip-hop show, part poetry-slam, part indefinable theatrical ritual, Rucker's She Said is a new-jazz tour-of-duty onto the battlefields of social injustice, race and gender. This is a ticketed event. Everyone must hold a ticket to attend. Tickets (one per student) are FREE for Muhlenberg students, faculty and staff. Tickets for the general public are $5 (general admission). Tickets can be obtained from the Muhlenberg College Theatre and Dance Ticket Office.

On Tuesday, October 21 at 8:00 p.m., Rucker will premiere We.Are.Here., an evening of new spoken-word performances created by the first year students in Muhlenberg's Emerging Leaders program. Held in the Red Door Café, this performance is set to live music and themed on notions of civility, disobedience and identity. We.Are.Here is free and open to the public.

Ursula Rucker is a poet and hip-hop recording artist whose work deals with confronting social injustice, especially as it relates to race and womanhood. She has released five critically acclaimed solo albums, and her musical collaborations include work with the Roots, the Silent Poets, King Britt and Josh Wink. She has toured extensively and is featured in the 2008 film The Black Candle, narrated by Maya Angelou. Rucker's appearance is co-sponsored by the Department of Theatre & Dance.

This event is part of the year-long Center for Ethics series, Civility and Disobedience, under the direction of Brian Mello, associate professor of political science, and Christine Sistare, professor of philosophy.

Each year, the Center for Ethics sponsors an intensive series designed to encourage discussion and reflection on a timely, pertinent topic. Center for Ethics programs are free and open to all members of the Muhlenberg campus and the local community.