News Stories 2014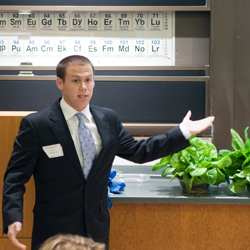 Students Participate in 5th Annual Innovation Challenge

12 Teams Present New Venture Ideas



Tue, 22 Apr 2014 10:27:00 EDT

The fifth annual Muhlenberg College Entrepreneurial Studies Innovation Challenge will be held on April 23 from 4:30 p.m. – 7:30 p.m. in the Seegers Union Event Space. Light refreshments will be served.

The Office of Entrepreneurial Studies invited all current Muhlenberg students to develop and submit a comprehensive plan for an original, innovative idea that solves a current social or market problem or fills a gap in the marketplace. Individuals and/or teams compete for a chance to win "seed money" to help get their ideas off the ground.

At the Challenge, 12 student innovation teams will present new venture ideas they've generated just this semester. From 5:30 to 6:30pm, eight of the teams will give 5-minute pitches explaining their idea. A panel of alumni judges and the audience will vote for their favorite ideas. Before and after the pitches, each team will present their idea at a table.