News Stories 2016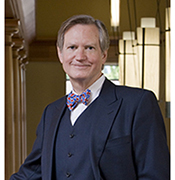 President Emeritus Randy Helm appointed Interim Chancellor at UMass Dartmouth

Helm begins his UMass service in March 2016.



Thu, 28 Jan 2016 09:02:00 EST

Peyton Randolph "Randy" Helm served as Muhlenberg College's eleventh president from July 1, 2003, through June 30, 2015.

The Muhlenberg College Board of Trustees unanimously voted to bestow the honorary title of President Emeritus to Randy Helm, effective upon his retirement on June 30, 2015, in recognition of his outstanding leadership of Muhlenberg College for the past 12 years, guiding the College successfully through challenging times in both higher education and the world at large. This action was announced publicly on Sunday, May 17, during the College's 167th Commencement ceremony.

During his tenure, Helm led the College successfully through two strategic plans, and launched the first comprehensive diversity strategic plan in the College's history; those strategic plans have resulted in a remarkable array of additions to the campus footprint, including a New Science building; two additions to Seegers Union, including the stunning Ilene and Robert Wood Dining Commons; the Hillel House expansion; and six dormitories, including The Village Complex, as well as important renovations to Trumbower Hall, The Rehearsal House, and East Hall.

The academic program was expanded and enriched, with ten new tenure-track lines, new majors in film studies, finance, Jewish Studies, and public health; a new concentration in arts management within the business major; and new minors in African American studies, innovation and entrepreneurship, and Jewish studies.

Helm led the completion of the $110 million Talents Entrusted to Our Care Campaign, and shepherded the receipt of several of the largest individual gifts in the College's history; his careful stewardship of his fiduciary responsibility resulted in an astounding 350% increase in the value of the College's endowment.

To read the full article by Joseph Sullivan, published on 01/25/16, visit the UMass website.