By Bill Keller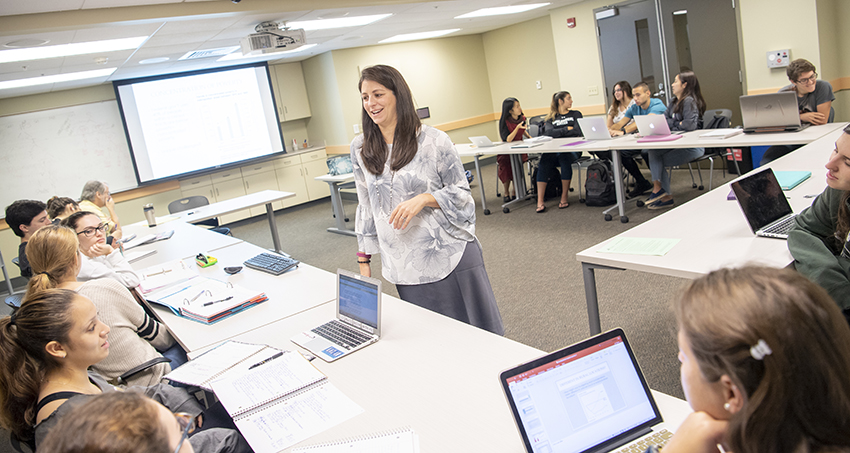 As Assistant Professor of Psychology Erika Bagley walks around her Moyer Hall classroom, two of her students whisper back and forth, arguing about their household budget.
"You want to spend $90 for a cell phone every month? That can't be a priority when we haven't budgeted for groceries yet."
"It's not a lot of money—and we need a cell phone if we're searching for a new job and apartment."
They're assuming the roles of a couple in financial distress, and their classmates are also struggling to make ends meet—at least until class ends. That's the point of the simulation in the opening weeks of Poverty, Risk and Resilience: understanding how financial hardship is framed socially, politically and in context for actual families. Bagley has split the 21 students in her class into four family groups, each with their own challenges and life circumstances, and tasked them with developing a monthly budget while planning for major life events like finding new careers and better housing.
Before these artificial households begin crunching numbers, though, the group has to develop an understanding of what poverty means. She asks the students to share their definitions:
"Poverty is when people don't have enough money to support basic needs." "Poverty is when you have limited resources to sustain everyday life." "Poverty is a consistent or long-lasting struggle. It's not just a few rough days." All these responses are valid, Bagley says.
Governments need to define an income threshold if federal programs are to address the economic and social issues around poverty. Bagley shares the definitions from the U.S. Department of Health & Human Services and the World Health Organization, but both have flaws when put into practice. They don't, for example, offer enough flexibility to account for rapid inflation, nor do they always take into account those on the verge of poverty and on the cusp of tumbling back into hardship.
In the United States, a family of four meets the federal definition of poverty if they make less than $23,850 a year. That's the budget Bagley sets for the "families" in her class (the one family of five gets slightly more, but has to care for three children under 6 years old) before sharing the individual factors (family health, work schedules, commute time, housing status) that the groups have to address in their plans. The students then must present their budgets and identify the challenges they encountered in the simulation.

Bagley asks the class what resources they could access that the families they imitated might not—smartphones, laptops, even a professor like herself who has made it her life's work to analyze the health factors that most affect poor populations. She shares information about state and federal programs like CHIP and Medicaid—programs the students were unaware of and unfamiliar with during their budget planning.
She asks how many of the budgets took into account the factors that researchers know affect childhood development—sleep, household stability, nutrition, physical activity, academic support, medical care—and is met with silence.
The groups share some of the sacrifices they felt were necessary in order to make ends meet. No group has budgeted for health insurance, and few are able to dedicate any funds to emergency savings. One group feels compelled to participate in a faith-based child-care program that doesn't align with their own beliefs because the cost is a fraction of private daycare. Another has asked a young teenage boy to get an after-school job instead of participating in extracurricular activities. A family weighs the benefits and risks of under-the-table employment for a father having trouble getting steady work due to a decades-old felony conviction. The last is reliant on a grandmother for free child care, knowing that they are asking a lot of someone with a medical disability.
For each group, the slightest deviation due to a cut in part-time hours or a broken-down car could send the group into debt or further erode household stability. To complement the lessons learned from the simulation, students read an essay about volunteering that challenges them to think about why people participate in service. They learn that inequality, privilege and the incentive of the volunteer are at the forefront of any type of service experience. Exploring those motivations and understanding the human impact is key to looking at poverty as a condition people experience and not a cause for pity.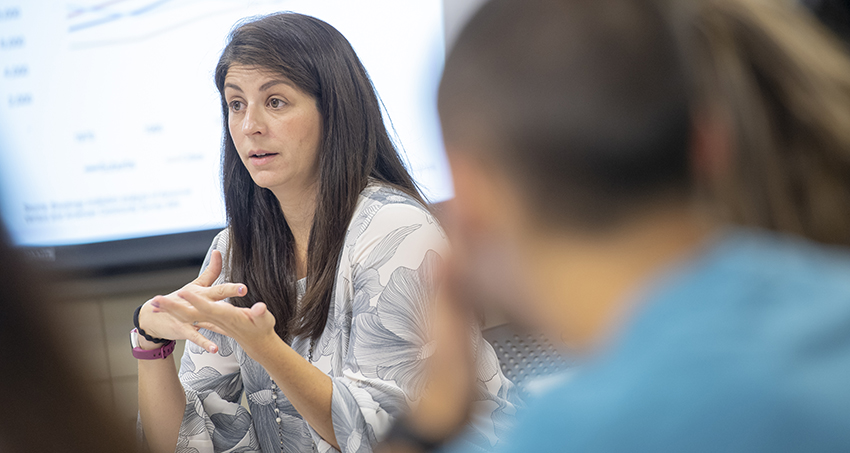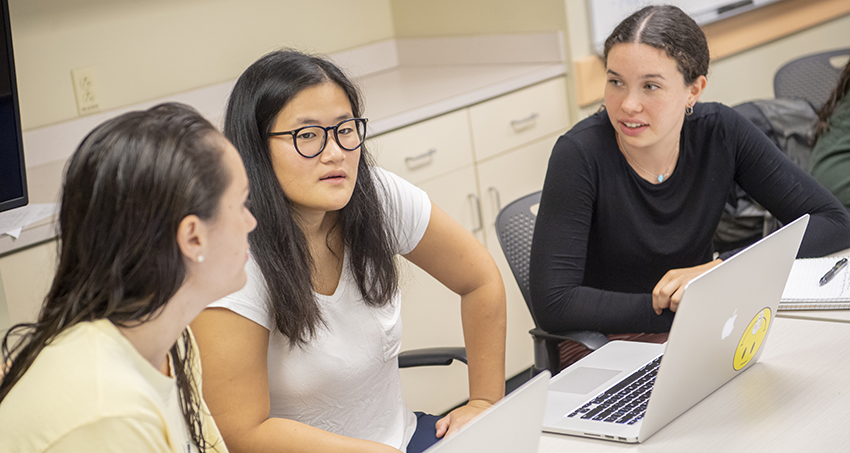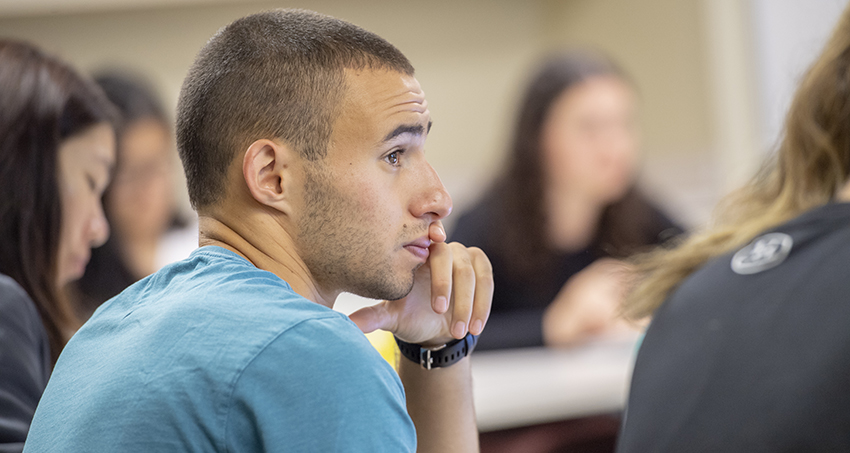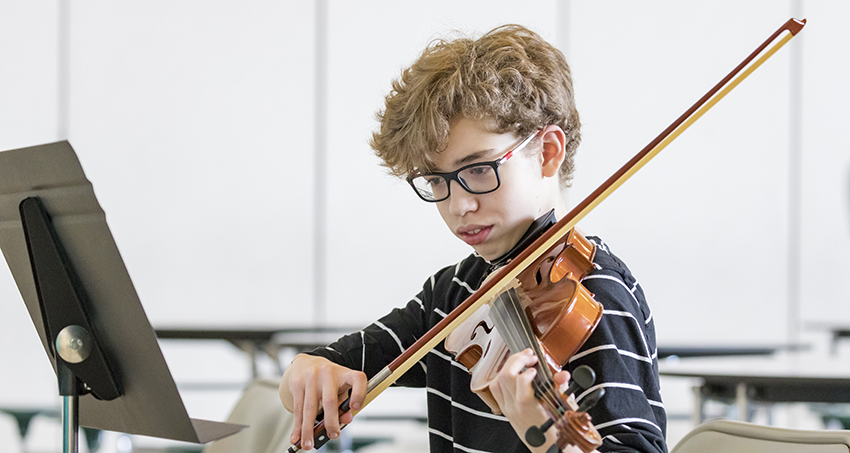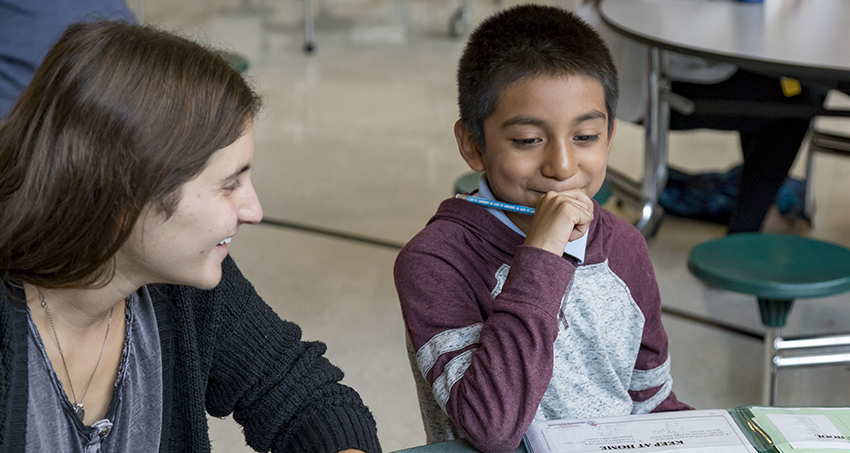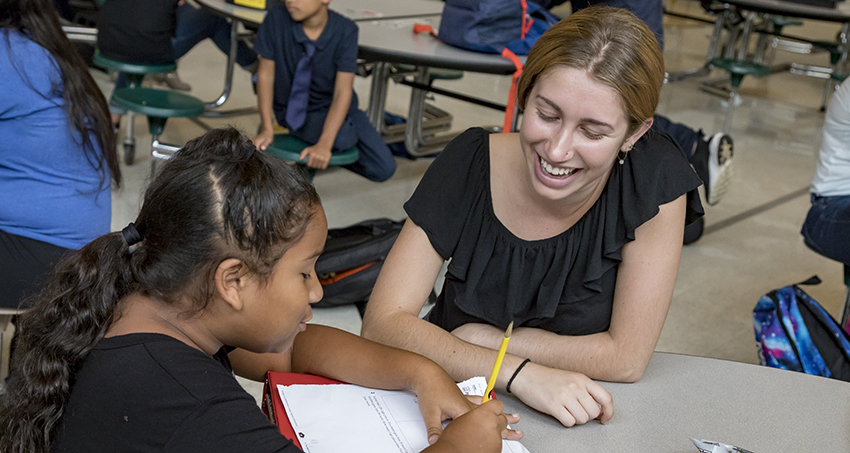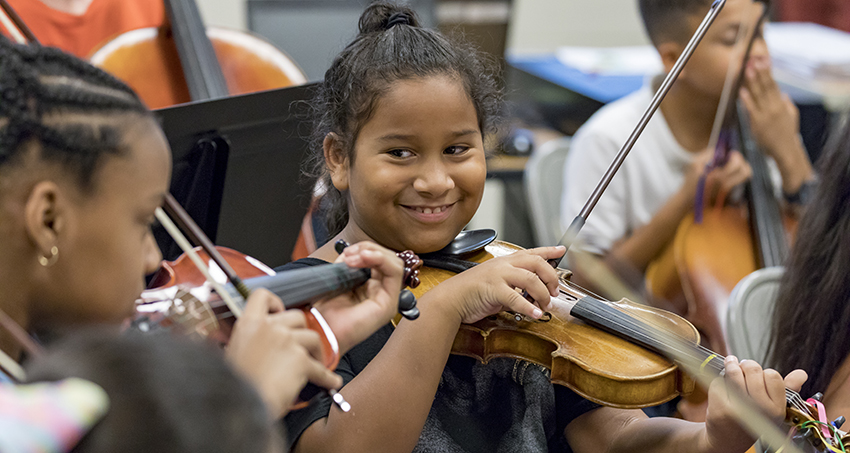 Two weeks after the poverty simulation, the students begin working with students at Allentown's Roosevelt Elementary for the service-learning component of the class.
When Bagley developed the course as a special-topics class five years ago, she reflected on her own graduate school experience at the University of North Carolina, where service learning had been an optional component. The disconnect between students who were only reading about the psychological impact of poverty and those who were engaged in the community was apparent: Without an immersive experience, poverty became an abstract concept. She wouldn't make that mistake with her class. When it became a permanent fixture to the psychology curriculum, it qualified for the College's Human Difference and Global Engagement graduation requirement for its coverage of socioeconomic, racial and ethnic inequity.
Students in Bagley's class learn to think of poverty as a contextual factor that affects health, much in the ways that exercise habits, stress levels, diet and nutrition, sleep patterns and substance have been for decades. That's the "risk" aspect of the course name—understanding the biological consequences of living in poverty, from prenatal development to adulthood.
To Bagley, the concept of resiliency—often known as "grit," a term Bagley loathes—is more difficult to assess. Anecdotes of children who "made it out" of poor neighborhoods are easy to find, but these narratives don't take into account the support systems and dozens—maybe hundreds—of contributing factors that often make the difference for a child growing up in poverty.
Support systems can be the relationships and opportunities that kids encounter throughout their childhood, or they can be part of a formalized program like El Sistema, the service partner for Bagley's class.
When looking for a community partner for the service-learning component of her course, Bagley reached out to Beth Halpern, director of community engagement at Muhlenberg. Halpern suggested El Sistema Lehigh Valley, an organization that works with the Allentown Symphony Association to serve vulnerable youth through after-school music instruction, ensemble opportunities and homework help.
El Sistema provides the framework for Muhlenberg students to support children through mentoring. The organization, founded in Venezuela in 1975, has established a presence in the United States over the last decade. Their on-site programs, like the one at Roosevelt Elementary, take the strengths of partner organizations and use those attributes—stringed-instrument instruction in this case—to provide a stable and supportive community for at-risk individuals.
Muhlenberg students serving in the after-school program provide tutoring and reliable support for the Allentown Symphony music instructors. The students quickly realize it's the relationships they're building and the community they're participating in that matter more than the musical instruments themselves.
"Our students don't need to be able to play string instruments. That's not their job," says Bagley. "They need to be able to support the kids who are there in a stable, engaging way."
Each week, students report back to the class and share the positive and challenging experiences they had with the children. Bagley leads the class in conversations that process awkward moments and identify learning opportunities. Then the students reflect on what they experienced, compare those moments with the research on poverty and its effects and prepare to go back on site and implement what they've learned. As the course progresses, she watches her students begin to look beyond the statistical definitions of poverty and understand that household income is just only one factor, if an oft-looming one, of the children's stories.
"Once they start going to Roosevelt and start having conversations with the students there, they realize that the problems the kids are having are really similar to the problems they had when they were in 5th grade," said Bagley. "We circle back to the economics, to the structural things that are making life difficult for parents—but we are also realizing kids are kids."
Yael Turk '21 found that the service-learning component of the class had an impact from her very first visit with the Roosevelt Elementary students.
"Our class lectures and discussion prepared me to understand that these children come from many different backgrounds and environments, but they also may react to their upbringing in different ways," says Turk. "They're so willing to talk to us, and it was clear that these students genuinely enjoyed having us there to spend time with them. This has been a once-in-a-lifetime experience."