Languages, Literatures, & Cultures







Stephanie Thorpe '01
Majors: Russian Studies and History

I am glad to hear that the Russian Progam is still going strong at Muhlenberg!
Currently I am attending Binghamton University and to be honest am very disappointed so far. My classes do not really challenge me at all...my undergraduate work at Muhlenberg was much harder and interesting. I am taking twelve credits, which is three classes. When I was signing up for classes during the summer I was told that twelve credits was all I would be able to handle. Boy were they wrong! My education at Muhlenberg certainly prepared me for my graduate work. I have truly discovered that Muhlenberg is a great school and community, and I miss it terribly.
I also have a job at Binghamton. I am a graduate assistant in an office called the Lyceum Office. Basically, I am a secretary for their program, which is a "lifetime learning" program. We hold classes for our 300+ members who are all over the age of fifty and who want to continue to learn. Many of the members are former professors, doctors, lawyers, teachers, etc. It is an interesting job.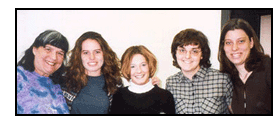 Dear Dr. Iskold, I am not sure when I will be back at 'Berg again, but I do plan to stop in next semester. I will let you know when I am coming and hopefully we'll be able to have lunch together to catch up. Please tell everyone at 'Berg, Dr. Kipa, Dr. Croskey, and whoever else, that I say hello and thank them for a wonderful education. Without the great faculty I would not be the student I am today. Let them know that I think they are all doing a wonderful job and to keep challenging the students to achieve all they can.
- Stephanie Thorpe