Music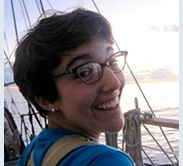 Michelle Rossi '13 in her own words
"Dr. (Ted) Conner asked me to come to a rehearsal after my second class in his First Year Seminar. I thought that I was simply sitting in to listen, and suddenly I had signed the form to register for the group. Collegium has allowed me to work closely with my musical peers," she says. "Being able to present our concert at the end of the semester feels like we are bringing our audience into our rehearsals, into what we get to experience every week."
When Michelle Rossi entered Muhlenberg, she thought she would major in Biology and minor in Music. She found a home in the Music Department and realized she could earn both her Bachelor of Science and Bachelor of Arts. "Music was a perfect contrast to my biology studies. I was sold on earning a dual degree," Michelle says.
A piano performance major studying with Michael Toth (more on Michael), Michelle has also taken lessons in voice, guitar, and viola da gamba. As Michelle says, "Each of these areas of study has allowed me to think about music in a new way."
Michelle has been involved in Collegium Musicum, our early music ensemble, since her freshman year, singing and playing harpsichord and viola da gamba. "Dr. (Ted) Conner asked me to come to a rehearsal after my second class in his First Year Seminar. I thought that I was simply sitting in to listen, and suddenly I had signed the form to register for the group. Collegium has allowed me to work closely with my musical peers," she says. "Being able to present our concert at the end of the semester feels like we are bringing our audience into our rehearsals, into what we get to experience every week." Michelle has also performed in College Choir, Chamber Orchestra, Musica da Camera, and the Handbell Choir. "The opportunity to experience various music ensembles is really what has made my time at Muhlenberg special," Michelle says.
In Spring 2012, Michelle studied abroad with SEA Semester, sailing as working crew from Tahiti to Hawaii. While performing oceanographic research, she also studied the music of French Polynesia and found that music helped her cross the language barrier.
The recipient of the 2012 Muhlenberg Woman's Auxiliary Scholarship in Music and Phi Mu Fraternity's 2011-12 Florence Williams Sheehan scholarship, Michelle is a prospective dental student for the fall of 2013, but she hopes to continue learning new instruments and furthering her music studies. "The Muhlenberg Music Department has given me all of the tools I need to keep performing and learning music throughout my life."