Music
Due Colori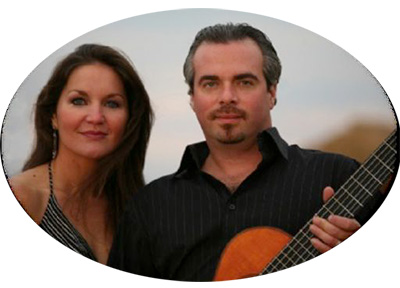 Megan Monaghan and Daniel Boring are a husband/wife duo who perform all over the world. Their duo "Due Colori" means 'two colors' in Italian and reflects the musical combination of voice with various instruments such as classical guitar and lute. Formed in 1998 while both performers were attending Ithaca College, they made their European Debut in Lucca, Italy, later that year.
Due Colori maintains a busy concert career throughout the United States, Europe and Mexico. In the Philadelphia area, both perform with the orchestra 'Vox Ama Deus,' where Dan performs as a continuo player and Megan as soprano soloist. Both have been featured on several Vox Ama Deus recordings during the past years with fellow 'Berg faculty member Ed Bara (story follows).
At Muhlenberg, Megan Monaghan maintains a vocal studio of approximately 30 students and directs the Muhlenberg College Opera Group, a class that focuses on operatic roles, styles and technique. Both Music and Theater Majors benefit greatly from this class as it stresses the role of the singing actor that is in high-demand in today's entertainment industries.
Daniel Boring's duties at Muhlenberg include teaching applied lessons in classical guitar, lute, and historical instruments as well as various plucked instruments such as ukulele, mandolin and banjo. Additionally, he has been the director and conductor for the Muhlenberg College Chamber Orchestra since 2006. The Chamber Orchestra presents concerts every semester with music spanning from the Baroque to Contemporary periods.
A Spring '12 collaboration between the Opera Group and the Chamber Orchestra led to performances of "Bell' Italia," a program of all-Italian opera scenes. This successful collaboration will be repeated Spring '13 with performances of baroque composer Henry Purcell's opera "Dido and Aeneas."