On the Mainstage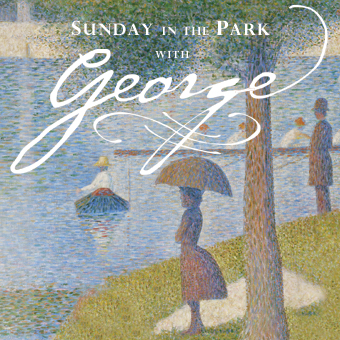 Sunday in the Park with George
Oct. 27 – Nov. 5, 2017
Music & Lyrics by Stephen Sondheim
Book by James Lapine
Director: James Peck
Musical Director: Ed Bara
Sondheim's longing, luminous musical celebrates creative genius – and the exquisite, excrutiating process of trying to make art.
Two artists, a century apart, strive to realize their artistic vision and create something new — without losing hold of the people they love. In the first act, 19th-century painter Georges Seurat works feverishly to complete his now-famous painting, even as Dot, his model and mistress, struggles for his attention. In the second, a 20th century sculptor (and Georges and Dot's great-grandson) unveils a spectacular new work, but he's dissatisfied; he yearns to move forward but feels disconnected and adrift.
Winner of the 1985 Pulitzer Prize, Sunday in the Park with George is perhaps the most intimate and personal work of Sondheim's career.
Friday, Oct. 27, 8 p.m.
Saturday, Oct. 28, 2 & 8 p.m.
Sunday, Oct. 29, 2 p.m.
Thursday, Nov. 2, 8 p.m.
Friday, Nov. 3, 8 p.m.
Saturday, Nov. 4, 8 p.m.
Sunday, Nov. 5, 2 p.m.
Empie Theatre, Baker Center for the Arts
Accessible Performances:
Sunday, Nov. 5, featuring Open Captioning for patrons with hearing loss and Audio Description for patrons who are blind or low-vision.
Thursday, Nov. 2, featuring Open Captioning only.
Please reserve tickets in advance for the accessible section of these performances, by calling Jess Bien at 484-664-3087 or emailing bien@muhlenberg.edu.
Sunday in the Park with George will be performed by two separate casts. If you wish to see a particular performer, please refer to the chart below and order your tickets carefully.
Pointillist Cast
Chromolume Cast
Oct. 27 at 8 p.m. Oct. 29 2 p.m.
Nov. 2 at 8 p.m. Nov. 4 at 8 p.m.
Oct. 28 at 2 p.m. Oct. 28 at 8 p.m.
Nov. 3 at 8 p.m. Nov. 5 at 2 p.m.
Evan Brooks
George/George
Evan Brooks
Kelly Shannon
Dot/Marie
Kelly Shannon
Laura Frye
Old Lady/Blair Daniels
Lella Michelson
Alissa Liebler
Nurse/Museum Guest
Jess Orelus
Christopher Torres
Jules/Robert Greenberg
Brandan Skahill
Gabrielle Hines
Yvonne/Naomi Eisen
Bree Ogaldez
Rachel Brudner
Louise/Museum Guest
Eliana Swartz
Jordan Page
Boatman/Charles Redmond
Michael Schatz
Nick Reit
Franz/Dennis
Matt Gill
Ashley Hiester
Frieda/Betty
Becca Phillips
Jesse Kinstler
Soldier/Alex
Tommy Gedrich
September McCarthy
Celeste #1/Waitress
Candice Belina
Cheyanne Leid
Celeste #2/Elaine
Emeline DiCroce
Dan Dobro
Mr./Lee Randolph
Christian Gutierrez
Rachel Horun
Mrs./Harriet Pawling
Hanah Gershkowitz
Ryan Estes
Louis/Billy Webster
Thomas Riley
Katie Fletcher
Woman/Museum Assistant
Katie Fletcher
Evan Plaza
Hornplayer/Photographer
Evan Plaza
Tickets
484.664.3333
or online.