Theatre & Dance
Studio Theatres
The black-box Studio and Dance Studio theatres offer a blank slate for performance exploration.
---
‌The Studio Theatre and Dance Studio Theatre offer supremely flexible performance spaces for theatre and dance. Actors and directors love to work in these spaces for the possibilities they open for innovation and exploration.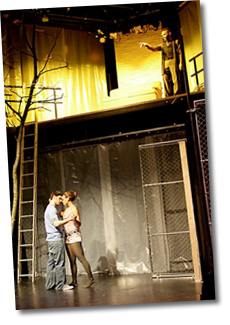 The Studio Theatre, a 2,300-square-foot performance space, encourages creative approaches and flexible staging for classic and innovative theatre productions. It features a full lighting grid, 21 feet above stage, as well as a balcony performance area around the whole perimeter. The Studio is designed with a flexible seating system that can accommodate around 100 patrons. It usually houses two or three Mainstage productions each season, in addition to the Summer Music Theatre children's musical and several student-directed and experimental works.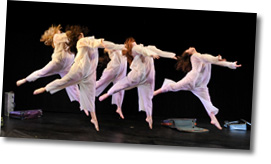 The Dance Studio Theatre houses performances of faculty, guest artist, and student dance concerts, as well as dance master classes and community workshops by faculty and artists in residence. A classroom for the extensive schedule of study in all styles of dance, the Dance Studio features a professionally installed dance floor, theatrical lighting and sound system, mirrors and bars that can be draped for performances, and a riser system to accommodate an audience of 80 at each performance.
Each spring, the Dance Program presents Dance Emerge in one of the Studio Theatres: an exceptional studio concert featuring the work of advanced student choreographers. Executed with vitality and vision, these dances are the product of a semester-long collaboration to develop new works in an intimate setting. Works range from the raw and robust to the sophisticated and delicate, and the experience of dance in the studio setting connects audiences with the dance and the dancers in exciting ways.
---
Photos, from top: The Other Shore, 2010 in the Studio Theatre, directed and choreographed by Karen Dearborn and James Peck, scenic design by Deacon W. Harris '10, lighting design by Christopher Szczerbienski '11, photo by Kenny Ek, Kenek Photography; Polaroid Stories, 2010 in the Studio Theatre, directed by Zach Trebino '11, scenic design by Tim Averill, photo by Kenny Ek; Dance Emerge 2010, in the Dance Studio Theatre, photo by Matthew Wright.