IJCU's Wallenberg Honors Presented to Ilene Hochberg Wood. Tribute Lecture Given by Yehuda Kurtzer
Institute of Jewish-Christian Understanding honors Ilene Hochberg Wood for philanthropy and community leadership.
Monday, September 30, 2013 02:31 PM
The 2013 Wallenberg honors will be presented to Ilene Hochberg Wood in recognition of her philanthropic work and strong community leadership. The honors will be presented at an on-campus dinner hosted by the College's Institute for Jewish-Christian Understanding on Sunday evening, September 29, and will include recognition of Elizabeth Cohn '13 for receiving the Jeanette Eichenwald Interfaith Award.

The 2013 Wallenberg Tribute lecture will be presented at 3:30 pm in the College's Miller Forum by Yehuda Kurtzer who will present his lecture, "Beyond Brokenness: Negotiating Power from a Tradition of Victimhood." This talk is co-sponsored by the Jewish Federation of the Lehigh Valley and is free and open to the public.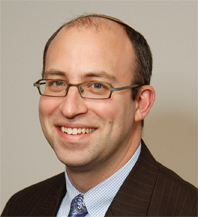 Kurtzer is President of the Shalom Hartman Institute of North America, overseeing the Institute's many educational and interfaith initiatives for the leadership of the North American Jewish community. He previously served as the inaugural Chair of Jewish Communal Innovation at Brandeis University, where he taught courses in Jewish Studies and in the Hornstein Jewish Professional Leadership Program. He has also taught at the Hebrew College Rabbinical School and in adult and academic settings across the country. Kurtzer's new book, Shuva: The Future of the Jewish Past, deals with many of the central challenges facing contemporary Jews and offers new thinking on how they can and should relate to the past. Kurtzer received his doctorate in Jewish Studies from Harvard University and is an alumnus of both the Wexner Graduate and Bronfman Youth Fellowships. He also helped co-found Brookline's Washington Square Minyan, and co-organized the first two Independent Minyan Conferences. He lives in New York with his wife, Stephanie Ives, and their three children.

Ilene Hochberg Wood is a native of New York and a graduate of Cornell University. She enjoyed a successful career in visual merchandising with major retailers, including Macy's, before developing the market for haute couture for pets and penning nine books based on her own designs. Since moving to the Lehigh Valley, Wood has become widely involved in philanthropic work, bringing hands-on leadership to numerous organizations and projects. Her experience in design and environmental analysis shows in her projects, tailoring events to the specific community that benefits from an organization's efforts. She is committed to ensuring that individuals on the margins of society enjoy the respect and opportunity they deserve as full members of our communities, and her personal range of contacts reflects the priority she places on the intrinsic value of each individual. As a spokesperson for mutual understanding across all social boundaries and for the dignity of each person in the community, Wood embodies one of the core values of her Jewish upbringing. As a vigorous partner of those who work daily to strengthen our community and our ties to one another, she honors the tradition of courageous moral action exemplified by Raoul Wallenberg.

The Wallenberg Tribute was instituted by Muhlenberg College in 1985 in honor of Raoul Wallenberg, a Swedish national whose creative and heroic work as a diplomat in wartime Budapest, Hungary, in 1944-45, is credited with saving as many as 80,000 Hungarian Jews from deportation by the Nazi to their annihilation camps in Poland. Wallenberg is one of two honorary citizens of the United States. He was detained by the Soviets within days of the liberation of Budapest in 1945 and was never seen publicly again; he is believed to have died in 1947 in a Soviet prison. The Wallenberg honors each year are presented to an individual who embodies Raoul Wallenberg's value of courageous moral action on behalf of others or who has made a significant contribution to interreligious understanding.

For further information on the Wallenberg Tribute, contact the Institute for Jewish-Christian Understanding of Muhlenberg College, 484-664-3470 or ijcu@muhlenberg.edu.