Muhlenberg College Announces Appointment of Rabbi Rachmiel Gurwitz as Jewish Chaplain and Hillel Director
Gurwitz will serve as a key member of the College Chaplain's senior leadership team and serve as representative for Jewish student life at Muhlenberg College, effective July 16.
Friday, May 11, 2018 00:15 PM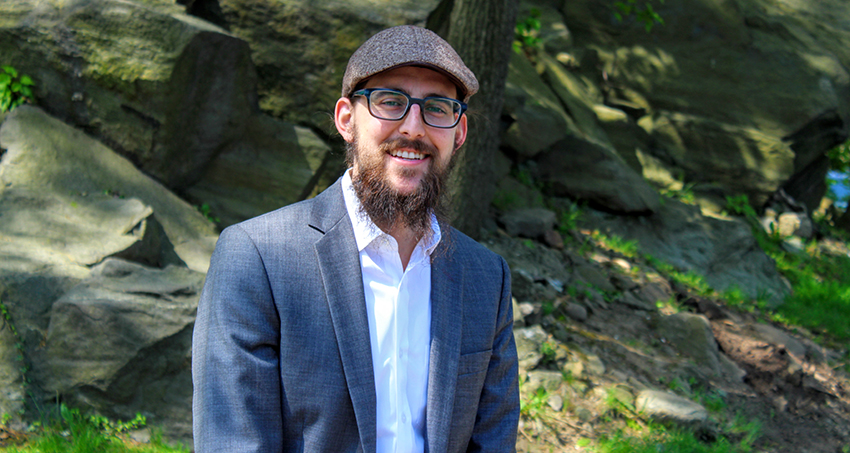 Gurwitz comes to Muhlenberg from The Bronfman Center for Jewish Student Life at New York University, where he served as as a rabbinic intern.
"I am delighted to celebrate Rabbi Rachmiel Gurwitz's appointment as the Jewish Chaplain and Hillel Director at Muhlenberg College. His dedication to inclusion and dialogue will continue the mission, values and work of our community," said President John I. Williams, Jr. "I thank the search committee (Rebekkah Brown '99, vice president for advancement; Anne Cannon '21; Jessica Cooperman, assistant professor of religion; Melissa Falk, dean of admission & financial aid; Eveily Freeman, associate director of community engagement; Glenn Gerchman, director of Seegers Union and campus events events; Justin Greenbaum '19; Riley Minkoff '20; Eva Nelson '20; Mark Stein, associate professor of history; Tama Tamarkin, admissions counselor) for their diligence throughout this process. I join them in welcoming Rachmiel to campus this summer."
"I am thrilled to be joining the Muhlenberg community as the Jewish chaplain and Hillel director," said Gurwitz. "I was taken by the warmth and enthusiasm of the Muhlenberg community, and I am so excited to lead the Jewish community on campus. I look forward to meeting with students, creating innovative programs and learning opportunities and striving to build a Jewish community that nourishes every student at Muhlenberg."
Gurwitz completed his bachelor of arts in global and international studies from the University of California, Santa Barbara; completed post baccalaureate studies at the David Shapell College of Jewish Studies/Darche Noam in Jerusalem, Israel and Yeshivat Tiferet Chaim in Baltimore, MD; and will be ordained from Yeshivat Chovevei Torah in Riverdale, NY this June. Gurwitz will succeed interim Jewish chaplain and Hillel director Dan Ehrenkrantz, who has served the Muhlenberg community since August 2017.
Founded in 1848, Muhlenberg is a highly selective, private, four-year residential, liberal arts college located in Allentown, Pennsylvania, approximately 90 miles west of New York City. With an undergraduate enrollment of approximately 2,200 students, Muhlenberg College is dedicated to shaping creative, compassionate, collaborative leaders through rigorous academic programs in the arts, humanities, natural sciences and social sciences as well as selected pre-professional programs, including accounting, business, education and public health. A member of the Centennial Conference, Muhlenberg competes in 22 varsity sports. Muhlenberg is affiliated with the Evangelical Lutheran Church in America.