Muhlenberg Continues to Expand Educational Opportunity for Low- and Moderate-income Students
Enrolling a more economically diverse first-year class and attracting more veterans are part of the College's efforts to increase educational accessibility.
By: Kristine Yahna Todaro Tuesday, December 18, 2018 11:21 AM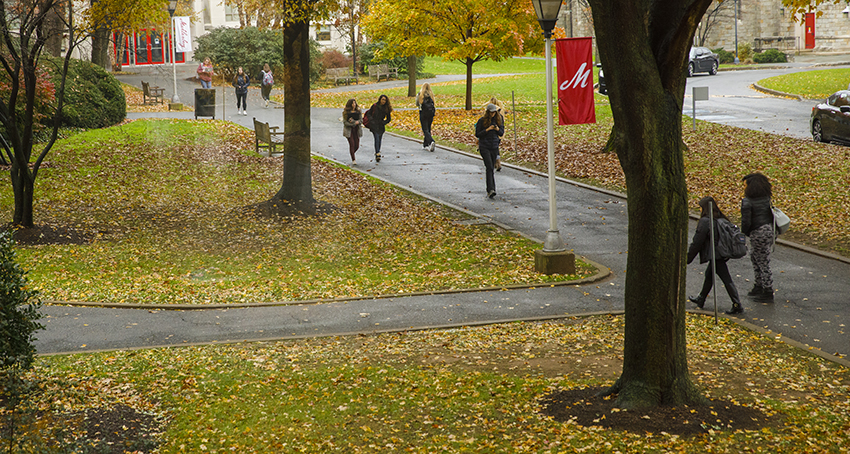 Muhlenberg College joined the American Talent Initiative (ATI) last April, partnering with more than 100 top-performing institutions to commit to the collective goal of enrolling 50,000 additional talented, low- and moderate-income students at colleges and universities with strong graduation rates by 2025.
A new ATI report shows members of its nationwide alliance of leading colleges and universities have made significant progress in improving opportunity for lower-income students. Muhlenberg is contributing to this progress in two significant ways: increasing the percentage of Pell Grant recipients—those undergraduate students who qualify for federal assistance based on exceptional financial need—and enrolling more veterans.
"This fall's first-year class had 19 percent Pell Grant recipients, the highest proportion in the College's history," says Robert Springall, Muhlenberg's vice president of enrollment management. "ATI's goals aligned well with Muhlenberg's in this regard. Even though we are one of the newest members of ATI, Muhlenberg has already made strong steps to enroll a more economically diverse class."
Pell Grant representation in the first-year class has grown significantly in the past five years. The class that joined the college in fall 2012 was just over nine percent Pell Grant recipients.
In November, Muhlenberg also joined about 30 top colleges and universities, already working together as part of ATI, to make new and renewed commitments to enroll and graduate more of the nation's military veterans. New York Times columnist David Leonhardt mentioned Muhlenberg favorably in a recent article about the need to improve veteran access to top schools, and the College has ranked in the top five in U.S. News & World Report's Best Colleges for Veterans among national liberal arts colleges since 2014. It's also rated a Military Friendly School by Viqtory.
"Our goal at Muhlenberg is to increase our student veteran enrollment by 25 percent over the next two years," says Jane Hudak, dean of the Wescoe School School of Continuing Education. "We plan to do this by continuing our involvement with an innovative program of which we were a founding member—A's (Academics) for Vets, a multi-college consortium dedicated to serving student veterans and sharing best practices in a non-competitive, collaborative effort. We're also enhancing our current one-stop-shop process for serving student veterans and their families on our campus."
Hudak also noted that the Wescoe School has supported military veterans for years through The Yellow Ribbon Program program. Through this program, the College partners with the Department of Veterans Affairs to cover the difference between the cost of tuition and the reimbursed amount provided by the post-9/11 GI Bill, thereby covering 100 percent of the tuition for eligible veterans.
Nationwide, members of the American Talent Initiative have increased enrollment of students who receive federal Pell grants by 7,291 since the 2015-16 school year. This momentum, highlighted in A 2018 Report on the Progress of the American Talent Initiative in its First Two Years, indicates that ATI is on track to reach its goal to make the nation's top colleges more accessible for 50,000 additional low- and moderate-income students by 2025.
ATI has grown from 30 original members in December 2016 to 108 members today, including flagship state universities, prominent liberal arts colleges and every member of the Ivy League, all with a graduation rate of 70 percent or higher. The initiative is supported by Bloomberg Philanthropies and coordinated by the Aspen Institute's College Excellence Program and Ithaka S+R.
About Muhlenberg College:
Founded in 1848, Muhlenberg is a highly selective, private, four-year residential, liberal arts college located in Allentown, Pennsylvania, approximately 90 miles west of New York City. With an undergraduate enrollment of approximately 2,200 students, Muhlenberg College is dedicated to shaping creative, compassionate, collaborative leaders through rigorous academic programs in the arts, humanities, natural sciences and social sciences as well as selected pre-professional programs, including accounting, business, education and public health. A member of the Centennial Conference, Muhlenberg competes in 22 varsity sports. Muhlenberg is affiliated with the Evangelical Lutheran Church in America.