Muhlenberg Joins American Talent Initiative, Aiming to Educate More High-Achieving, Low- and Moderate-Income Students
The College joins 100 institutions committed to enrolling an additional 50,000 accomplished lower-income college students nationwide.
Wednesday, April 18, 2018 05:29 PM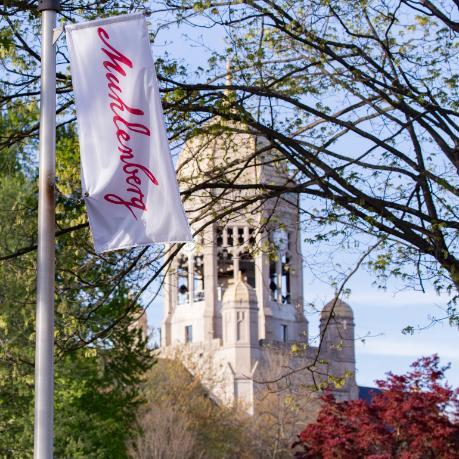 Muhlenberg College announced today that it has joined the American Talent Initiative (ATI), partnering with 100 top-performing institutions to commit to the collective goal of enrolling 50,000 additional talented, low- and moderate-income students at colleges and universities with strong graduation rates by 2025. As part of ATI, Muhlenberg will develop strategies to attract, enroll and support more high-achieving, lower- and moderate-income students from before they arrive on campus to graduation and beyond.
Launched in December 2016 with 30 institutions, ATI member institutions must meet the standard of graduating at least 70 percent of their students in six years. ATI, a Bloomberg Philanthropies initiative led by the Aspen Institute's College Excellence Program and Ithaka S+R, includes the entire Ivy League, 17 state flagship universities and private colleges.
"We're proud to be one of 100 top institutions joining the American Talent Initiative," says Robert Springall, vice president for enrollment management. "Muhlenberg has long been an innovator in engaged liberal arts learning, with a commitment to success for all our students. ATI will support our ongoing efforts to increase economic diversity on our campus—and to learn and share best practices with other institutions to reduce economic barriers, enroll and graduate students from a wider variety of economic circumstances and create a more inclusive environment for all students."
"Muhlenberg College develops students' full intellectual and personal potential, positioning them well for lifelong fulfillment and success," says President John Williams. "Firmly grounded in the liberal arts and featuring several strong pre-professional programs, a Muhlenberg education inspires our students to think critically about problems from a diversity of perspectives. Through our partnership with ATI, we will strengthen further our commitment to opening doors for the most able students drawn from an increasingly inclusive set of communities throughout the U.S. and around the world."
As part of the national effort to increase opportunity for talented, low- and moderate-income students at top-performing colleges and universities, all member institutions are implementing several strategies designed to attract, enroll and graduate high-achieving, lower-income students, including:
Identifying talented students through better recruitment of qualified high school graduates and high-achieving transfer students from community colleges and other schools;

Increasing the number of applications from Pell-eligible students, the number of Pell-eligible students who are enrolled and the number of first-generation students enrolled;

Prioritizing need-based aid to make attendance more affordable; and

Retaining and graduating lower-income students at rates comparable to their higher-income peers.
At this time, approximately 290 colleges and universities nationwide achieve a graduation rate of 70 percent of their students in six years. The initiative aims to increase the total number of low- and moderate-income students enrolled at these institutions by 50,000 - from about 480,000 to 530,000 students - by 2025. Member institutions of the American Talent Initiative commit substantial resources to increase opportunity for lower-income students, as well as collect institutional data which will be annually published to assess their aggregate progress toward meeting the 50,000-by-2025 national goal.
About Muhlenberg College:
Founded in 1848, Muhlenberg is a highly selective, private, four-year residential, liberal arts college located in Allentown, Pa., approximately 90 miles west of New York City. With an undergraduate enrollment of approximately 2200 students, Muhlenberg College is dedicated to shaping creative, compassionate, collaborative leaders through rigorous academic programs in the arts, humanities, natural sciences and social sciences as well as selected pre-professional programs, including accounting, business, education and public health. A member of the Centennial Conference, Muhlenberg competes in 22 varsity sports. Muhlenberg is affiliated with the Evangelical Lutheran Church in America.
About Bloomberg Philanthropies:
Bloomberg Philanthropies works in over 120 countries around the world to ensure better, longer lives for the greatest number of people. The organization focuses on five key areas for creating lasting change: Arts, Education, Environment, Government Innovation, and Public Health. Bloomberg Philanthropies encompasses all of Michael R. Bloomberg's charitable activities, including his foundation and his personal giving. In 2017, Bloomberg Philanthropies distributed $702 million.