Developmental Psychologist Ryan Lei Discusses Intersectional Invisibility
Ryan Lei, an assistant professor of psychology at Haverford College, will present "The Development of Black Female Invisibility" as the 2022 speaker for the John B. Rosenberg '63 and Stephanie Lambert Speaker Series.
Tuesday, March 8, 2022 10:30 AM
The talk will take place on Wednesday, March 23 at 4:30 p.m. in the Seegers Union Event Space for faculty, staff and students. Members of the public are invited to watch the event via livestream. Streaming details will be provided prior to the event and those wishing to tune in should RSVP here.
Police brutality disproportionately harms Black people in America. Most people, however, are more likely to recognize the names of Black men than Black women killed by police. This form of cultural invisibility that Black women face is called intersectional invisibility and is a qualitatively different form of racial bias unique to those who have multiple subordinated identities. Yet, little is known about how Black women become marginalized in people's representations of gender. In his talk, Lei will present work investigating when and how Black female invisibility might emerge in children's representations. Lei will discuss the importance of an intersectional perspective in developmental science in order to understand and tackle social inequality.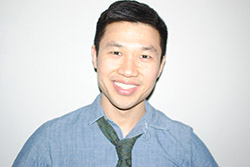 Ryan Lei is a developmental and social psychologist whose work takes an intersectional perspective on how children represent and navigate the social world. His work has been published in Psychological Science, JEP: General and Child Development Perspectives and was recently named a 2022 APS Rising Star. Lei received his bachelor's in psychology and international relations from the University of North Carolina at Chapel Hill and his master's and Ph.D. from Northwestern University. He completed a postdoctoral fellowship at New York University before joining the faculty at Haverford College.
The John B. Rosenberg '63 and Stephanie Lambert Speaker Series is coordinated by the Department of Psychology at Muhlenberg College. The 2021 talk, rescheduled from 2020, featured psychologist J. Russell Ramsay, who presented "I Know What I Need to Do, I Just Don't Do It: Adult ADHD and 'Procrastivity.'" The series debuted in 2020 with an inaugural lecture "Understanding and Preventing Social Stereotyping and Prejudice in Children: Lessons from a Career in Developmental Science" by Professor Emeritx of Psychology and Women's and Gender Studies at the University of Texas at Austin Rebecca S. Bigler.