Featured Story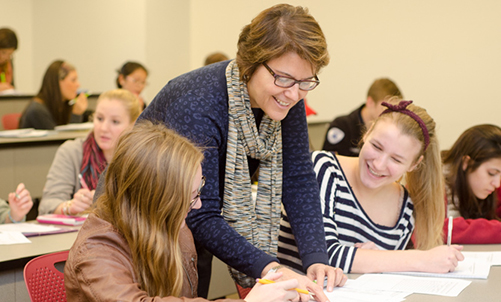 'Berg approves public health major
Curriculum extends across the natural sciences, mathematics, social sciences and humanities to educate and empower students about health related issues from varying points of view
Monday, October 20, 2014 04:28 PM
Muhlenberg College is pleased to announce that, beginning the Fall 2015 semester, students will be able to declare a major in public health.
Muhlenberg was the first small, private liberal arts college in the country to establish a public health minor in 2006.
Public health at Muhlenberg is an interdisciplinary study that focuses on the protection and improvement of health for individuals, communities and populations at risk for injury and disease. The curriculum extends across the natural sciences, mathematics, social sciences and humanities to educate and empower students about health related issues from varying points of view. They will graduate well-prepared for graduate work and professional careers in public health.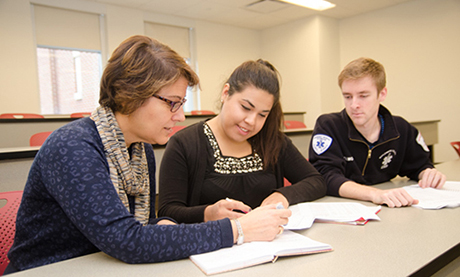 Chrysan Cronin, lecturer of biology and director of the public health program,
with Nancy Flores and Adam Elwood '16, students enrolled in Issues in Public Health.
"Public health is already the largest minor program at Muhlenberg with typically more than 100 minors per year," said Christopher Hooker-Haring '72, dean of admission and financial aid. "I'm thrilled that our students with an interest in this important field will now have the opportunity to study public health as a major as well as a minor."
Students who study public health will gain an understanding of behavioral, economic, historical, political and social determinants of health and of the important relationships that statistics and science have on the design of public health interventions. Within the program, students are afforded the flexibility to choose electives appropriate to their field-specific interests. Students are encouraged to participate in public health related experiences including independent research study, service learning or other experiential learning connected to a course, internships within the community and community service unconnected to a course.
"Students at Muhlenberg have shown great interest in learning ways to impact the health and wellness of communities and society that don't focus purely on medicine," said Chrysan Cronin, lecturer of biology and director of the public health program. "Our new major affords students the opportunity to draw from the wide range of disciplines at the College, studying health and wellness from different points of view, which is a key strength of a liberal arts education."
Founded in 1848, Muhlenberg is a highly selective college offering programs in the liberal arts and sciences, plus selected pre-professional studies. The public health major will join a number of interdisciplinary majors at the College, including American studies, biochemistry, environmental science, film studies, international studies, Jewish studies, natural science, neuroscience, philosophy/political thought, physical science, political economy & public policy, and Russian studies. The College also offers eight interdisciplinary minors, as well as three interdisciplinary honors programs.