John Williams

John Williams set Muhlenberg on an ambitious path of growth, change and service. With a new College Strategic Plan, new leadership in positions across the campus, rising quality in our entering classes and a deep commitment to supporting the faculty in their work as teachers and as scholars, he positioned the Colleg
e for an exciting, entrepreneurial future, building on a solid foundation built by those who have gone before.
Taking office as our 12th president on July 1, 2015, President Williams brought to Muhlenberg his wide-ranging experience in liberal arts colleges and an extensive background in corporate leadership and entrepreneurship.
President Williams was born in New York City and grew up in suburban Long Island, N.Y. He earned his B.A., magna cum laude, in 1975 from Amherst College, where he majored in economics.
After graduating four years later from Harvard Law School and Harvard Business School, he became the first person of color ever hired at the strategy consulting firm Bain & Co. He went on to launch several successful entrepreneurial ventures. Among other positions, he was also a senior vice president at American Express and served as an expert-in-residence at Harvard's Innovation Lab.
President Williams has traveled extensively and is also an accomplished pilot. He and his wife, Diane Pierce-Williams, have three adult children and one grandchild. Learn more about John Williams.
"With his business and entrepreneurial background, it's not surprising that Williams is approaching the preparing of students for the workplace in an innovative way," according to an article in Black Enterprise.
---
Randy Helm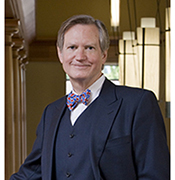 Peyton Randolph "Randy" Helm served as Muhlenberg College's eleventh president from July 1, 2003, through June 30, 2015. Dr. Helm earned his BA in Archaeology from Yale University and his PhD in ancient history, specializing in ancient Greek and Near Eastern history and literature, from the University of Pennsylvania.
President Helm led the College successfully through two strategic plans, and launched the first comprehensive diversity strategic plan in the College's history; those strategic plans have resulted in a remarkable array of additions to the campus footprint, including a New Science building; two additions to Seegers Union, including the stunning Ilene and Robert Wood Dining Commons; the Hillel House expansion; and six dormitories, including The Village Complex, as well as important renovations to Trumbower Hall, The Rehearsal House, and East Hall.
The academic program was expanded and enriched, with ten new tenure-track lines, new majors in film studies, finance, Jewish Studies, and public health; a new concentration in arts management within the business major; and new minors in African American studies, innovation and entrepreneurship, and Jewish studies.
President Helm led the completion of the $110 million Talents Entrusted to Our Care Campaign, and shepherded the receipt of several of the largest individual gifts in the College's history; his careful stewardship of his fiduciary responsibility resulted in an astounding 350% increase in the value of the College's endowment.
He created the College's Board of Observers, which has provided valuable periodic review of the College's academic and administrative departments for a continuing program of assessment, while simultaneously re-engaging scores of alumni with their alma mater.
President Helm developed a relationship with local businesses which resulted in the West End Theatre District organization, and forged a partnership with the 19th Street Theatre that will benefit our faculty, staff and students for years to come.
The President also served the higher education community with elected positions to the Boards of the Association of Independent Colleges and Universities in Pennsylvania, the Council for Advancement and Support of Education, and the National Association of Independent Colleges and Universities, as well as serving a term as the Chair of the Executive Committee for the Centennial Conference.