Martin Art Gallery
David Ambrose: Conversations with Yesterday
September 16 - November 18

In Hot Haste, 2017, 25" x 40", watercolor and gouache on pierced paper
David Ambrose's exhibition Conversations with Yesterday has been a project forty years in the making. This show, however, is not a retrospective. Each piece, produced over the past two years, is the result of lessons learned throughout his nearly four decade career, which began at Muhlenberg College in the late 70's as a student.
Muhlenberg is excited to highlight this distinguished alumnus with an exhibition of new works in the Martin Art Gallery. Employing gouache, oil, pastel and watercolor, Ambrose stipples paint, pierces paper, and scrapes and reapplies pigment to systematically create unexpected color juxtapositions and vibrant fields of intricate layers. Using a near obsessive process, works remind us that persistence pays off. Iterative manipulation results in exquisitely detailed surfaces. Each piece seemly captures the ephemeral nature of concentration. The product of a long journey looking both outward and inward, this collection of works manifest Ambrose's unique vision.
The exhibition is accompanied by a catalog and essay by Stephen Maine, and will include a public artist talk in the Empie Recital Hall, in Baker Center for the Arts on November 1, from 5 - 6pm.
---
2017 Annual Alumni Exhibition in the Galleria Space

Daryll Heibergerer
There is something in the New York air that makes sleep useless, 2017
Digital print
The 2017 Annual Alumni Exhibition features nine of our alumni, from recent graduates, to graduates from as far back as four decades ago. Our artists are working in sculpture, photography, glass, wood, and illustration. Participating alumni are KeriLyn Burrows '72, Scott Fruchter '72, Ethan Geehr '83, Robin Grossman '87, Daryll Heiberger '17, Alexander King '12, Rebecca Kolpak '08, Jacqueline (Hublitz) Lewis '77 and Tara Simpson '02.
For our 2017/2018 season, Martin Art Gallery has invited a series of performance based artists to supplement our ongoing exhibiting artist speaker series. These distinguished speakers are intended to compliment, contrast and augment our exhibition program by injecting their unique perspective of direct engagement [performance based practice] with campus and community.
---
Our first distinguished speaker is New York Based artist Clifford Owens. Owens' is an engaging and dramatic speaker whose talk will explore past works and present practice. Owens confronts issues of race, black agency and authorship in a frank and direct manner through his performance and immediately in his talks which are a kind of performance in and of themselves. Owens interrogates issues of personal space and often engages the audience, resulting in a sort of inadvertent collaboration. This unique event is not to be missed, and is free and open to the public. Clifford Owens' talk with take place September 13, from 5 - 6pm in the Recital Hall, in Baker Center for the Arts.
Clifford Owens' art has appeared in numerous group and solo exhibitions. His solo exhibitions include "Anthology: Clifford Owens" Museum of Modern Art PS1 (2011-2012), "Better the Rebel You Know" Home, Manchester, England (2014), and "Perspectives 173: Clifford Owens" Contemporary Arts Museum Houston (2011). His many group exhibitions include, "Radical Presence: Black Performance in Contemporary Art" Contemporary Arts Museum (2012 - 2014), "Greater New York 2005" Museum of Modern Art PS1 (2005), "Freestyle" The Studio Museum in Harlem (2001), and "Performance Now" (2013 – 2014), and "Lone Wolf Recital Corp" Museum of Modern Art (2017).

He studied at The School of the Art Institute of Chicago, Rutgers University, and the Whitney Museum Independent Study Program. He has received numerous grants and fellowships including the William H. Johnson Prize, the Art Matters Grant, the Louis Tiffany Comfort Award, New York Foundation for the Arts Fellowship, the New York Community Trust, the Lambent Foundation, Denniston Hill Distinguished Performance Artist Prize, and the Rutgers University Ralph Bunche Distinguished Graduate Fellowship. Publications, reviews, and interviews about his work include New York Times, Art +Auction, Village Voice, Modern Painters, Art in America, Art Forum, The New Yorker, BOMB, The Wall Street Journal, The Drama Review, Greater New York 2005, Performa: New Visual Art Performance, Rethinking Contemporary Art and Multicultural Education, and Why Art Photography? He has written for exhibition catalogues, the New York Times, Art Forum, and Performing Arts Journal. His project "Anthology" is the subject of his first book.

He has been visiting artist faculty and guest critic at The School of the Art Institute of Chicago, The Cooper Union for the Advancement of Science and Art, Yale University, Columbia University, Harvard University, Princeton University, New York University, and the University of North Carolina, Chapel Hill. He has been an artist in residence at The Studio Museum in Harlem (2005-2006), Skowhegan School of Painting and Sculpture (2004), Pioneer Works (2014), and Sharpe-Walentas Studio Program (2016-2017).

Clifford lives and works in New York City, and he is represented by INVISIBLE-EXPORTS, located in New York City.
---
William Hudders: Three views
September 1 - January 15, 2018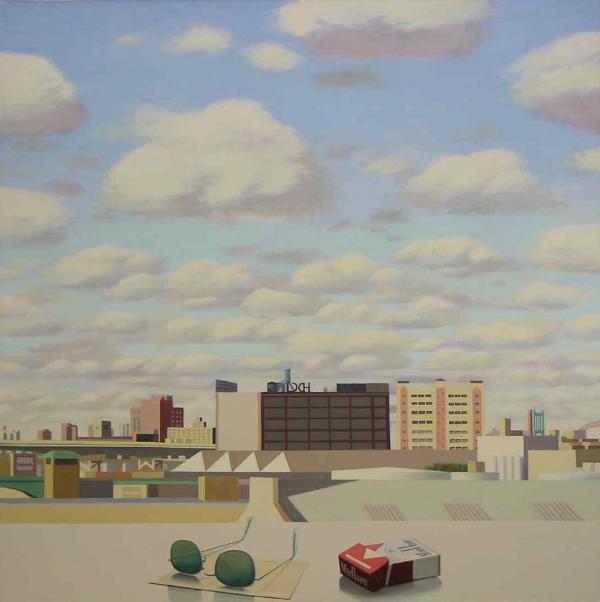 Postcard, 2004
Three large works from William Hudders will be on display through January 2018.
---
Roger Loos: Stone ‌Koans
November 2016 – November 2017
An exhibition of stone works by Roger Loos. Four works remain on display in the garden walk (between Trexler library and Baker Center for the Arts) for one year. Exhibition runs through November 2017.
---
Upcoming events and exhibitions:
Works on loan by Jen Huh and Dan Golden will remain on extended loan and are on view in the Baker Center for the Arts through the end of 2017. Jen Huh is showing five of her God's eyes sculptures as an installation adjacent to the pitched glass atrium ceiling. Additionally Jennifer and Dan Golden collaborated on a new mural work, which is situated near the Paul C. Empie Theater.
---
The Martin Art Gallery is open Tuesday - Saturday 12 - 8pm, and The Martin Art Gallery's Galleria Space is open Monday - Sunday, 9:00am - 11:00pm*. All of our exhibitions and programming are free and open to the public. For further information, please visit http://www.muhlenberg.edu/main/aboutus/gallery, or call us at 484 664 3467
Artists may submit an exhibition packet or proposal for consideration to the gallery. Packets should include contact information and web portfolio link. Our gallery mailing address is: Martin Art Gallery, Muhlenberg College, 2400 Chew St., Allentown, PA 18104. Proposals will be accepted on an ongoing/rolling basis, and prospective artists will be contacted by the gallery. Please do not submit original art work as the gallery cannot be responsible for caring for or returning unsolicited submissions. Promotional materials submitted for consideration will not be returned.


All art images are the property of Martin Art Gallery, Muhlenberg College, Allentown, Pennsylvania. Any reproduction or distribution of this material without the expressed, written consent of the Martin Art Gallery is prohibited and a violation of federal law. All rights reserved.