President's Office
Welcome to the President's Office website.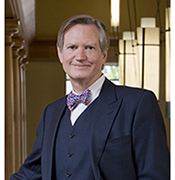 Serving since 2003 as Muhlenberg's eleventh President, Peyton Randolph "Randy" Helm earned his BA in Archaeology from Yale University and his PhD in ancient history, specializing in ancient Greek and Near Eastern history and literature, from the University of Pennsylvania.
President Helm reports to the Board of Trustees, the governing body of the College. In conjunction with the Board, he created a Board of Observers, which aids the College in periodic assessment at the departmental level.
President Helm has announced his retirement from the College, effective June 30, 2015.
Holding the faculty rank of Professor of History, Dr. Helm teaches courses in Homeric Epic and Greek history as his schedule permits.
Information and resources are available for the Community, the College's Trustees, and members of the Board of Observers.
John I. Williams Jr. Named 12th President of Muhlenberg College