President's Office
Welcome to the President's Office website.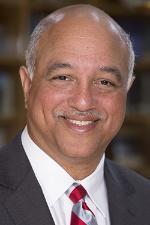 John I. Williams, Jr. was named Muhlenberg's twelfth President by a unanimous vote of the Board of Trustees on December 4, 2014. He assumed the office on July 1, 2015. Mr. Williams earned his Bachelor's degree from Amherst College, and earned a JD and MBA concurrently from Harvard University.
President Williams reports to the Board of Trustees, the governing body of the College.
Information and resources are available here for the Community, the College's Trustees, and members of the Board of Observers.