Center for Ethics Events Open with Panel Discussion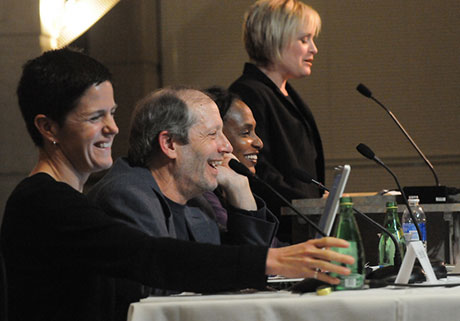 The Center for Ethics will kick off their fall programming with a campus forum, "How Should We Talk About Sex at Muhlenberg," on Tuesday, September 10, at 7:30 p.m. in Miller Forum, Moyer Hall.
Friday, September 6, 2013 08:25 AM
Muhlenberg faculty, students and administrators, including the College's President Randy Helm, will discuss the concept of sex, ethics, and pleasure politics from various perspectives. This event is free and open to the public, and provides a framework for the rest of the programming for the Sex, Ethics, and Pleasure Politics series.
Although sexual activity is a central part of socialization and identity formation, sexual behavior is generally considered a private matter and is seldom examined critically in the public sphere. Universities are no exception; college students - regardless of whether they choose to have sex - are immersed in a campus culture in which 'private' sexual beliefs and behaviors shape the 'public' undergraduate social experience, and yet the uncritical attitudes that shape these beliefs and behaviors are rarely interrogated or considered within an ethical frame.
The forum will be moderated by Lanethea Matthews, associate professor of political science, and will feature: student Mel Ferrara '15; Corey Goff, director of athletics; President Helm; Robin Riley-Casey, director of multicultural life; and Alan Tjeltveit, Professor of psychology.
This forum aims to utilize a variety of perspectives to begin exploring critical questions such as: How do differing moral, political and sociological attitudes toward sexuality shape our ethics? How do these attitudes enrich or inhibit the possibility of sexual pleasure? How do attitudes about pleasure, the body, identity and individuality define what sorts of sexual activity will be considered permissible or impermissible? Is pleasure something that we ought to pursue and promote? What is our ethical responsibility to the pleasure of others? How might a comprehensive sexual ethics cause us to rethink our understanding of justice and interpersonal responsibility?
For more information, visit the Center for Ethics online.