Eleven football players named All-CC; Palladino top rookie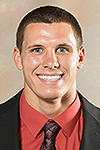 Eleven members of the Muhlenberg football team received All-Centennial Conference honors, combining for 13 spots on the all-star team
Wednesday, November 20, 2013 02:25 PM
Since the CC expanded to 10 teams in 2010, the 13 spots are the most earned by the Mules, and the five first-team selections tie for the most.
Junior defensive end Greg DeLade, junior linebacker Ian Gimbar, junior wide receiver Cody Geyer, junior tight end Michael Long and sophomore offensive tackle Bryan Auvil were named to the first team. Geyer also received second-team honors as a kick returner.
Freshman cornerback John Feaster and junior linebacker Jeremey Thomas were voted to the second team, and junior guard Tommy DeVito, junior nose tackle Kevin Cellary, junior safety Tyler Cerbo and junior kicker/punter Connor Winter earned honorable mention.
Freshman quarterback Nick Palladino was named rookie of the year. The first Mule to earn the honor (which was given for the first time last year), Palladino (left) set a school record for freshmen with 1,826 passing yards, just 21 shy of the CC mark. He has thrown 12 touchdowns against only six interceptions while also rushing for 373 yards (second on the team) and six touchdowns. Since taking over the starting job, Palladino has a 7-1 record.
FIRST TEAM
DeLade (above left) moved up to the first team after earning honorable mention last year. He is third in the CC with 15½ tackles for loss, including a team-leading 7½ sacks, among his 40 tackles. DeLade also has four pass breakups, a forced fumble and a fumble recovery.
Gimbar (above second from left) made the first team for the second year in a row. He is fifth on the Mules with 41 total tackles, including 8½ for loss and four sacks.
Geyer (above center) had a breakout season after losing most of his first two years to injury. He ranks second in the CC and 11th in Division III in all-purpose yards per game (178.4). Geyer leads the CC in receiving touchdowns (10) and is second in receiving yards (1,050), yards per catch (19.8) and punt return average (17.3). Geyer's 13 total touchdowns are tied for most in the league.
Long (above second from right) jumped to the first team after receiving honorable mention last year. He leads all CC tight ends with 45 receptions, averaging 11.2 yards per catch and scoring four touchdowns. Long set a CC record for tight ends by catching 11 passes in a win at Juniata.
Auvil (above right) is the only non-senior on the first-team offensive line and is the first Muhlenberg offensive lineman to make the All-CC first team as a sophomore since 2006. He started all 10 games for an offense that is averaging 414.0 yards and 35.8 points per game. Twice this season (against Juniata and Moravian), the Mules possessed the ball for more than 39 minutes and ran more than 90 plays.
SECOND TEAM
Feaster (above left), the first Muhlenberg freshman to earn a spot on the All-CC team since 2006, leads the CC and is tied for eight in Division III with six interceptions. He also has recorded 40 tackles and four pass breakups.
Thomas (above right) is second on the Mules with 57 total tackles and is tied for fourth in the CC with 14 tackles for loss. The stat-sheet filler also has 5½ sacks, five pass breakups, an interception, two forced fumbles, a fumble recovery and a blocked punt to his credit.
HONORABLE MENTION
DeVito (above left) has started all 10 games at right guard. Cellary (above second from left) solidified the middle of the line since taking over as a starter midway through the season, recording 29 tackles (5 for loss). Cerbo (above second from right) recorded 35 tackles to go along with a team-leading six pass breakups and two interceptions in his first season as a starter. Winter (right) missed only four kicsk during the regular season, going 9-of-12 on field goals and 43-of-44 on extra points, while also ranking fourth in the CC with a 38.5 yards-per-punt average.
Click here for the complete All-CC team.