Falk Selected for National Leadership Development Program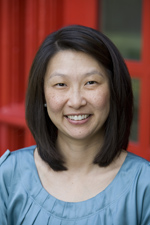 Melissa Falk '92, associate dean of admission and financial aid, selected to participate in a year-long Senior Leadership Academy.
Monday, April 1, 2013 10:41 AM
Muhlenberg College is pleased to announce that Melissa Falk '92, associate dean of admission and financial aid, is one of 26 mid-level administrators in higher education nationwide selected by the Council of Independent Colleges (CIC) and the American Academic Leadership Institute (AALI) to participate in a year-long Senior Leadership Academy.
Individuals chosen for the program are mid-level administrators in higher education who aspire to senior leadership positions in independent colleges or universities. Falk will participate in two seminars, one in Pittsburgh, Pennsylvania, November 1–3, 2013, and one in Washington, DC, June 10–12, 2014. Falk will undertake a mentoring program, experiential learning projects and a series of readings and case studies.
The purpose of the Academy is to prepare prospective leaders to assume positions as the chief officers in any division—including academic affairs, student affairs, finance, enrollment management, and advancement—in independent higher education.
"The need to prepare future leaders of colleges and universities has never been greater because the generation of people now in senior leadership positions on campus is rapidly approaching retirement," said CIC President Richard Ekman. "Competition for the available places in the program was intense, and the review committee found the nomination materials to be most impressive. They (and I) believe that Melissa Falk has the potential for highly effective leadership in a position of senior responsibility on campus."
Since the program began in the 2010–2011 academic year, many participants have experienced upward mobility. Eight have been appointed to vice presidencies at other institutions, three have been appointed to vice presidencies at their home institutions, 15 have earned promotions to positions of greater responsibility within their home institutions, and four have advanced to higher positions at other institutions.
"These early indicators suggest that CIC is helping to meet the leadership needs of higher education by offering highly effective leadership development programs for modest fees to member institutions," Ekman said.
For more information about the Senior Leadership Academy, visit www.cic.edu/seniorleadershipacademy.
CIC SENIOR LEADERSHIP ACADEMY PARTICIPANTS, 2013–2014
Erik Bergrud, Park University (MO)
Ty Buckman, Wittenberg University (OH)
Myra Burnett, Spelman College (GA)
Ann Cassell, Hampden-Sydney College (VA)
Robert Cole, Roger Williams University (RI)
Leslie Cornick, Alaska Pacific University
Michael Deen, Austin College (TX)
Michael Edmonson, Albion College (MI) and The Philadelphia Center (PA)
Melissa Falk, Muhlenberg College (PA)
Laura Gobbi, Mills College (CA)
Barbara Hatcher, Ferrum College (VA)
Richard Ice, College of Saint Benedict/Saint John's University (MN)
Karen Kaivola, Stetson University (FL)
Yvan Kelly, Flagler College (FL)
Heather Lobban-Viravong, Grinnell College (IA)
Pedro Muino, Saint Francis University (PA)
Ian Patrick, Bellarmine University (KY)
Wendy Price, Washington and Lee University (VA)
Lori Quigley, The Sage Colleges (NY)
Evan Robinson, Western New England University (MA)
Raylene Rospond, Drake University (IA)
John E. (Jack) Ryan, Gettysburg College (PA)
Mark Salisbury, Augustana College (IL )
Kurt Schackmuth, Lewis University (IL)
Sally Selden, Lynchburg College (VA)
Gil Villanueva, University of Richmond (VA)
Founded in 1848, Muhlenberg College is a private, highly selective, liberal arts college affiliated with the Evangelical Lutheran Church in America.
The Council of Independent Colleges is an association of 645 nonprofit independent colleges and universities and more than 90 higher education organizations that has worked since 1956 to support college and university leadership, advance institutional excellence, and enhance public understanding of private higher education's contributions to society. CIC is the major national organization that focuses on providing services to leaders of independent colleges and universities as well as conferences, seminars, and other programs that help institutions to improve the quality of education, administrative and financial performance, and institutional visibility. CIC also provides support to state fundraising associations that organize programs and generate contributions for private colleges and universities. The Council is headquartered at One Dupont Circle in Washington, D.C.
The American Academic Leadership Institute provides leadership identification and development programs across all sectors of public and private higher education. AALI creates and implements programs and assistance for academic leaders in various administrative positions enabling them to be successful in their roles and to advance the institutions they serve. In addition, AALI supports research and publications and consults with academic leaders and boards of trustees concerning traditional and emerging issues facing higher education and its governance. Headquartered in Washington, DC, AALI and its predecessor organizations have participated in the advancement of higher education for over 30 years. A subsidiary of AALI, Academic Search Inc. (ASI), one of the nation's premier search firms since 1976, provides significant funds each year to support AALI leadership development programs. The ASI subsidy allows AALI programs to be offered at a comparatively low price.