Flank wins loaded bracket at Ursinus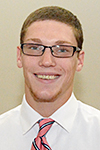 Freshman Jaryd Flank of the Muhlenberg wrestling team won the 125-pound championship at Ursinus' Will Abele Invitational
Wednesday, January 1, 2014 11:24 AM
Although it came in the bracket with the smallest competitors, what Muhlenberg freshman Jaryd Flank accomplished at Ursinus was no small feat.
Flank won the 125-pound title at the Will Abele Invitational, emerging from a loaded bracket that included three national qualifiers, including the top-ranked wrestler in Division III. The tournament title was the first in the short career of Flank and the first by a Mule 125-pounder in seven years.
Flank opened with an 11-6 decision against an opponent from Wis.-Platteville to advance to the semifinals, where he was to face Christopher Donaldson from Ursinus, who is ranked No. 1 in the country. But Donaldson was injured in his quarterfinal bout, a 6-4 win, and forfeited out of the bracket.
In the final, Flank (left) faced Jacob Spearman of Washington & Jefferson, who won a bout at the NCAA Championships last March. To get to the finals, Spearman had edged Wilkes' Michael Fleck, a 2012 NCAA qualifier who took last year off.
Flank trailed Spearman 6-3 after two periods and chose the top position for the final two minutes, knowing he would need to put his opponent on his back to claim the win. And although it took him nearly the whole period, that is exactly what he did, pinning Spearman – who received honorable mention in the latest d3wrestle.com national rankings – in a cradle with just 16 seconds left for the championship.
The two other Muhlenberg wrestlers in the tournament both competed at 149, with sophomore Che Chengsupanimit losing two close decisions. |

Click here for Muhlenberg results.
Click here for complete results.