Mayden, Bauer Earn All-America Honors at NCAA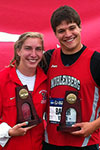 Senior Samantha Mayden and sophomore Tyler Bauer earned All-America honors at the NCAA Track & Field Championships.
Tuesday, May 28, 2013 11:57 AM
It was a great ending to the 2012-13 athletic year, a great ending to an outstanding career, and perhaps the start of something big.
Both Muhlenberg athletes at the NCAA Division III Track & Field Championships at La Crosse, Wis., earned All-America honors. Senior Samantha Mayden finished seventh in the 5,000 meters, and sophomore Tyler Bauer came in fifth in the javelin.
It's the first time in program history that the men's and women's teams have produced All-Americans in the same year.
Mayden is the first All-American in a running event for the women's team (the previous two were in the javelin and pole vault). She earned the All-America honor in her fifth and final trip to an NCAA meet.
"I never thought it would be realistic to be an All-American," said Mayden. "It's a great way to end it."
Appropriately, Mayden's great ending came with a great ending. She called the 5K "the weirdest race I've ever run."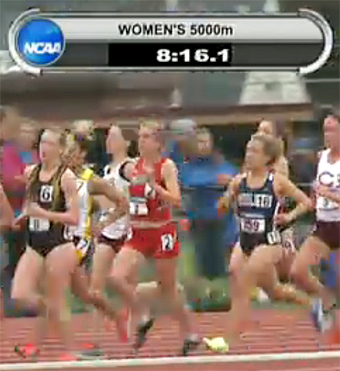 Mayden, seen here in a screen cap from the NCAA.com webcast of the meet, finished one place ahead of the Johns Hopkins runner who kept her from gold medals at the Centennial Conference Championships in the 5,000 (outdoors) and 3,000 (indoors).
"We were all on top of each other for the whole race," she explained. "I've never been in a race where we were tightly bunched like that. We were tripping all over each other. Someone would go to make a move, and they would wind up back where they started."
The runners finally started to separate with about a mile left. A group of six runners moved ahead of the pack, and Mayden was in another group of three just behind them. She was eighth with four laps to go and remained there until the final lap, when she kicked it in with her best 400 of the race (1:16.2) to finish seventh by a comfortable three seconds.
"I didn't want someone to beat me for All-American on the last straightaway!" she said.
Mayden finished with a time of 16:51.06, not far off her personal record of 16:47.15. A workout she did this week in which she ran ten 400s at a desired pace put her in a good position for success at the NCAA meet – and a scoreboard that showed every runner's split after every lap helped greatly too.
"When I looked up at the scoreboard and saw my splits, that's how I knew I was in the right place," she said.
Bauer was in a good place at the start of the javelin competition.As the first thrower in the first flight, he had an opportunity to start with a big throw and put pressure on those who came after him.
It didn't quite work out like that. Bauer threw "only" 59.15 meters, well below his qualifying mark of 63.78, and was in fifth place in the flight at the end of the first round.
"It wasn't a good throw, it wasn't a bad throw. It was just an okay throw," said Bauer. "That's how most of my throws are. Then you have the one good one."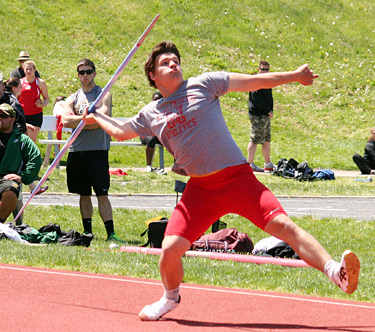 Bauer raised the school record in the javelin by almost 18 feet during his sophomore season.
That came on his next try.
In the first throw of the second round, Bauer jumped into first place with a heave of 65.36 (214-5). The lead didn't last long, as national champion Tim VanLiew of Rutgers-Camden followed with a Division III-record 75.55 (247-10), but no one else came close to Bauer's mark for the rest of the flight.
"Everything fell into place," said Bauer of the throw that broke his previous school record by more than five feet. "The acceleration was great. I kept my arm back, which was great. I forgot about the injuries I had. On that throw in particular, I did everything right."
Three throwers, including the defending national champion, moved ahead of Bauer in the second flight, and he went into the finals in fifth place. None of the finalists improved their best marks in the final three rounds, and Bauer finished in fifth.
Bauer is the third Muhlenberg male to earn All-America honors outdoors and the first to do it on his first trip to NCAAs.
"I couldn't have done any better," he said. "I PRed. You can't ask for much more than that."
Maybe not this year, but Bauer has set his sights higher for the rest of his career. Of the eight placewinners, five were seniors, two were juniors, and Bauer was the only sophomore.
"It was a very encouraging experience," said Bauer of his first national meet. "I'm going to remember this moment but this isn't where I want to be. I'm going to work as hard as I can to get there."
Click here for women's 5,000 results.
Click here for men's javelin results.