Men's soccer ranked, Cronin honored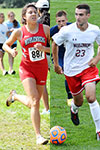 Men's soccer team earned a regional ranking, and senior Nicki Cronin of the women's cross country team earned a conference honor.
Wednesday, September 4, 2013 09:24 AM
The Muhlenberg men's soccer team is ninth in the Mid-Atlantic Region in the first National Soccer Coaches Association of America poll of the 2013 season.
The Mules opened their campaign by splitting a pair of home matches against teams that were in the postseason last year. After a 2-1 loss to 18th-ranked Rutgers-Camden, Muhlenberg defeated Colonial States Athletic Conference preseason favorite Neumann, 2-0. At right, senior Brendan McIntyre dribbles in the Neumann game.
As usual, the Centennial Conference is well represented in the regional poll, accounting for five of the top nine spots. Haverford and Dickinson are tied for second, Swarthmore is fourth, and Franklin & Marshall is sixth. Both Haverford and Dickinson are ranked in the top 20 nationally, with Swarthmore receiving votes.
This is the 27th straight year that the Mules have been ranked at some point in the season. Last year, they climbed as high as No. 11 in the national poll.
Senior Nicki Cronin of the Muhlenberg women's cross country team was named runner of the week by the Centennial Conference.
Cronin (left) finished fifth overall, and first among Division III runners, at the Lehigh Valley Invitational. Cronin was the only non-Division I athlete in the top 20 and recorded the second-best finish ever by a Mule at the meet. She led Muhlenberg to a sixth-place showing – first among seven Division III teams.
For the latest in sports, visit the Athletics website