Men's tennis duo wins flight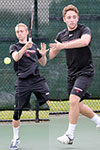 The Muhlenberg men's tennis No. 1 doubles team took first place at the Mule Fall Classic.
Monday, September 9, 2013 10:01 AM
The team of junior Daniel Lakhman and sophomore Max Blumenthal won the No. 1 doubles flight at yesterday's Mule Fall Classic, the first competition of the year for the Muhlenberg men's tennis team.
The four-team tournament also included Moravian, Wilkes and King's.
Lakhman and Blumenthal won a pair of close matches, defeating a team from King's 8-6 and a Wilkes duo 9-7.
The other two Mule doubles teams split their matches, with senior Ben Berkowitz and sophomore Derrick Eng reaching the final at No. 3 and the No. 2 team of senior Jason Teitelbaum and junior Eric Chavis winning the consolation match.
Berkowitz (No. 4), Chavis (No. 5) and Eng (No. 6) won their consolation singles matches. Teitelbaum captured a three-set match in the first round of the No. 3 singles flight before sitting out the final.
Click here for complete results.
For the latest in sports, visit the Athletics website