Muhlenberg College Hosts Major Panel on the Future of Medicine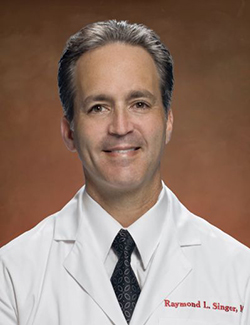 Top professionals in the field, moderated by alum Dr. Raymond L. Singer '80, discuss healthcare reform
Thursday, October 31, 2013 01:38 PM
Muhlenberg College will host a panel discussion. "The Future of Medicine: What You Need to Know About Healthcare," on Thursday, November 14 from 6:30 – 8:00 p.m. in the College's Seegers Union Event Space. Moderated by Dr. Raymond L. Singer, Chief of Cardiothoracic Surgery at Lehigh Valley Health Network, the panel will feature CEOs of major health care networks and companies, as well as a health care attorney.
Panelists will include: Joanne M. Judge, Esquire, C.P.A., Co-Chair of Health Law, Stevens & Lee; John A. Kristel, M.B.A., M.P.T., President & CEO, Good Shepherd Rehabilitation Hospital; Christopher P. Molineaux, President & CEO, Pennsylvania Bio; Gary D. St. Hilaire, President & CEO, Capital Blue Cross; Ronald W. Swinfard, M.D., F.A.C.P., President & CEO, Lehigh Valley Health Network.
"As we enter 2014, we can clearly reflect on this past year as being one of the most significant in healthcare history, "says Singer, M.D., M.M.M., C.P.E. "We have assembled a panel of leading experts to discuss the future of healthcare reform from various stakeholder's vantage points -major non-profit hospital networks, preventive and rehabilitation care facilities, health insurance providers, health law experts, as well as advanced medical device technology and pharmaceutical manufacturers. Each stakeholder will provide their viewpoint followed by an open panel discussion. Attendees will have the opportunity to ask questions directly to our distinguished panel of experts."
Seating is limited and reservations are required. The presentation, which is $35, includes cocktails and a buffet. To RSVP, call (800) 464-2374 or register online at www.muhlenbergconnect.com/medicine.
For more information on other alumni events or the office of alumni relations, visit www.muhlenbergconnect.com.