Muhlenberg College Named #1 Liberal Arts School for Veterans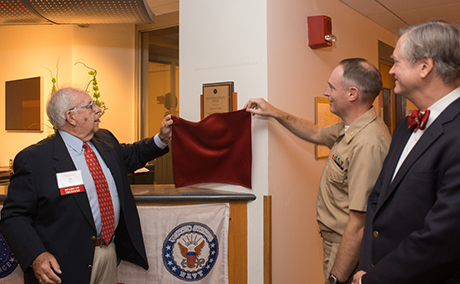 'Berg recognized for support and services offered to military veterans and their families who enroll or return to a pursuit of higher education
Tuesday, November 12, 2013 09:06 AM
Muhlenberg College has been named the nation's best liberal arts college for veterans by U.S. News and World Report. The new rankings provide data and information on schools that offer benefits and services, including tuition assistance, to veterans and active service members.
The Wescoe School of Muhlenberg College offers specific veteran's education benefits and has been named a Military Friendly School each year since 2010 by GI Jobs Magazine. Under the Yellow Ribbon Program, Muhlenberg College has partnered with the U.S. Department of Veterans Affairs in offering scholarships to veterans that cover the difference between the cost of tuition and the amount provided by the Post-9/11 GI Bill.
In total, there were 234 ranked schools across all 10 U.S. News ranking categories: National Universities, National Liberal Arts Colleges, Regional and Regional Colleges.
"The USN&WR College rankings are of dubious value for helping undergraduates find the best school for themselves - precisely because students' needs, interests and preferences vary so tremendously. It seems valid, however, to evaluate colleges on specific criteria that are directly related to the experience of students with specific needs. The USN&WR methodology for 'Best Colleges for Veterans' seems rooted in such criteria, and I am delighted that Muhlenberg has been ranked first among the Nation's liberal arts colleges in providing support to our veterans," says Muhlenberg College President Randy Helm.
Visit the Veteran's Portal for more information about Wescoe's veteran's education benefits.
U.S. News & World Report is a multi-platform publisher of news and analysis, which includes the digital-only "U.S. News Weekly" magazine, www.usnews.com and www.rankingsandreviews.com.
Pictured above:
This year, the Class of 1960 dedicated the Seegers Union Information Desk to Muhlenberg College alumni who have also served as veterans of the United States Armed Forces. The plaque reads, "Information Desk given by the class of 1960 in recognition of Muhlenberg veterans for their service to their country. 50th reunion, September 2010." Pictured are Ed Davis '60, Dr. Charles D. Peters, Jr. '94, and President Randy Helm.