Muhlenberg Track & Field Coach Publishes Book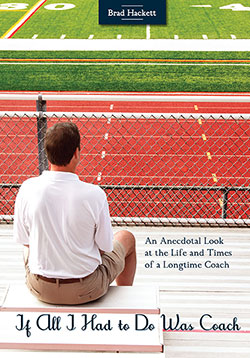 Highlights from 30 years of coaching
Tuesday, September 10, 2013 02:11 PM
Muhlenberg College track and field coach Brad Hackett has published a book. If All I Had To Do Was Coach (Coaches Choice Publishing, August 2013) provides an inside look at Hackett's 30 years of coaching Division I, Division III and Olympic level track and athletes.
The book provides dozens of humorous anecdotes about the overall trials and tribulations of being a track and field coach. There are chapters on vans, hotels, equipment failures, facility issues, drug tests, NCAA rules, recruiting and one chapter titled "Kids will be Kids." One humorous incident, highlighted in the book, involves the Carrier Dome roof being let down, a 54-inch snowstorm, former Governor Mario Cuomo, the National Guard and 5000 people trapped in a field house.
The book is "a front row seat on the wild ride through his years in the sport," says five-time Olympian Amy Acuff.
Hackett is a graduate of Colgate University and was an assistant coach at his alma mater for two years. He then spent three years at Bucknell University and nearly 10 years as an assistant coach at Syracuse University. Since his arrival at Muhlenberg College in the fall of 1999, the Mules have combined for more than 80 school records and produced 12 All-Americans and eight Academic All-Americans.
Hackett has done extensive work for USA Track and Field, including a six year tenure as the triple jump chair and a seven-year stint as chair of the men's development committee.
The book is available at Coacheschoice.com and MFathletics.com as well as the Colgate University and Muhlenberg College bookstores.