MuleMentum: Muhlenberg Looks Back on our Day of Giving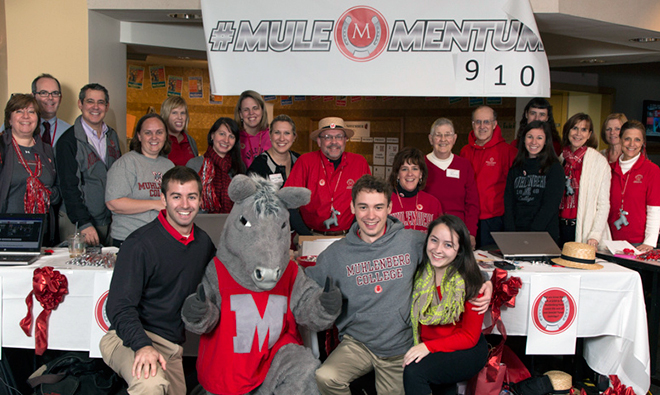 11/12/13 marked Muhlenberg's Day of Giving: MuleMentum. We look back at the campaign that met and exceeded our goal of 910 donors.
Wednesday, November 13, 2013 01:02 PM
On November 12, 2013, Muhlenberg College issued a challenge to our alumni, parents, students, faculty, staff and friends to reach 910 gifts to make 11/12/13 a Day of Giving. We named our one-day campaign MuleMentum - an appropriate term when one considers the incredible work the Muhlenberg College community is capable of through teamwork.
The decision was made early on in the planning process to ask donors to designate their gifts toward Financial Aid or The Muhlenberg Fund, the fund that bridges the gap between tuition and the expense of educating a student at Muhlenberg.
On the day of the campaign, we asked people to visit our Mulementum page to make a gift and support the College. We encouraged each donor to share the story of why they give back, and we enabled tools to allow these stories to spread quickly through email and social media. Before long, #MuleMentum was a hot topic of discussion between members of our community, both on and off campus.
The Development Office set up headquarters in Seegers Union throughout the day so students, faculty, staff and local alumni could make a gift in person and have their photo taken with the Mule. A large sign hanging above the stairs in Seegers Union counted the gifts reached towards the eventual goal, and video updates from President Randy Helm, Dean Karen Green and Muhlenberg students and staff let our community know that their overwhelming support was well on the way to making this one-day push an overwhelming success.
It was only 4:17 p.m. by the time our initial goal was reached and surpassed. The crowd gathered at the entrance to Seegers Union erupted into cheers as the online count passed the target goal of 910 donors.
By November 13, over 1300 had taken action to let us know that they support Muhlenberg College. The response from our alumni, parents, faculty, staff, current students and friends was tremendous. We'd like to thank all those who took the time during our Day of Giving to voice their belief in Muhlenberg.