Novelist Cristina García Kicks Off Living Writers Program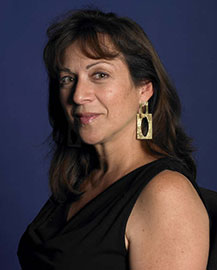 Award-winning author Cristina García will give a public reading at Muhlenberg College
Tuesday, September 3, 2013 04:24 PM
Award-winning author Cristina García will give a public reading at Muhlenberg College on September 9, 2013 at 7:00 p.m. in Miller Forum, Moyer Hall. The reading, which is free and open to the public, is part of the College's Living Writers series.
García is the author of six novels, including Dreaming in Cuban, The Agüero Sisters, Monkey Hunting, A Handbook to Luck, and The Lady Matador's Hotel. García has also edited Cubanísimo: The Vintage Book of Contemporary Cuban Literature and Bordering Fires: The Vintage Book of Contemporary Mexican and Chicano/a Literature. In addition, she has written a collection of poetry and numerous books for young readers. Proir to her career in fiction, she was a journalist, having worked at Time magazine as a researcher, reporter and Miami bureau chief.
García's work has been nominated for a National Book Award and translated into 14 languages. She is the recipient of a Guggenheim Fellowship, a Whiting Writers' Award, a Hodder Fellowship at Princeton University and an NEA grant, among others.
Recently, García was a visiting professor at the Michener Center for Writers at the University of Texas-Austin as well as the University of Miami. Currently, she is university chair in creative writing at Texas State University-San Marcos.
Living Writers, established in 1994, is a course offered once every three years that brings six established and emerging writers to Muhlenberg College. The students read their recent works and then interact with the authors directly as they visit campus for a day. The writers come to class, have lunch with students and then give a public reading of their work in the evening.
Future readings will be given by writers Colm Toibin (9/23), Patrick Lawler (10/7), Kay Ryan (10/21), Terrance Hayes (11/4), and Chris Ware (11/18).