Partnership With NYC-Based Larry Singer Studios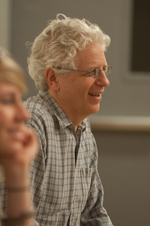 Muhlenberg College has partnered with Larry Singer Studios, a comprehensive acting studio in New York City, to offer an accredited summer acting experience for its theatre and dance students.
Friday, March 1, 2013 08:39 AM
"We are thrilled to establish a New York City-based, credit-bearing theatre program," said Muhlenberg College Provost Dr. John Ramsay. "This will give our students a conservatory experience. It capitalizes on one of our flagship programs and on our proximity to New York, and it will give our students a first-rate acting experience."
Dr. James Peck, Chair of the Department of Theatre and Dance adds, "This new educational opportunity will give advanced students from Muhlenberg and other colleges the opportunity to study intensively five days per week in one of the world's premiere theatre centers. Larry's extensive connections and esteemed reputation will give students the chance to meet and learn from top working professionals."
Larry Singer is one of the leading acting teachers of this generation. He was voted the Number One Acting and Scene Study Teacher by Backstage Magazine in 2011 and has been rated in the as one of the top teachers for several years. Singer was an adjunct professor at Muhlenberg College from 2008-2010, and has since held the title of Visiting Assistant Professor. The Larry Singer Summer Conservatory is a five-week program designed to advance actors in their overall acting ability and improve their acting instrument. Once accepted into this program, students will receive 2 course credits for a 5 week program, as they would with any summer study abroad program.
This collaboration is the sixth of its kind in the College's history. Muhlenberg currently enjoys similar relationships with Accademia dell'Arte in Arezzo Italy; Goldsmiths College, University of London; Dublin City University; University of Maastricht in the Netherlands and the Muhlenberg College Washington Semester program.
This summer session will be certified by the College's Department of Theatre and Dance, which has been ranked in the top 10 in the country by the Princeton Review for the last seven years. The College was number one in the nation as recently as 2011